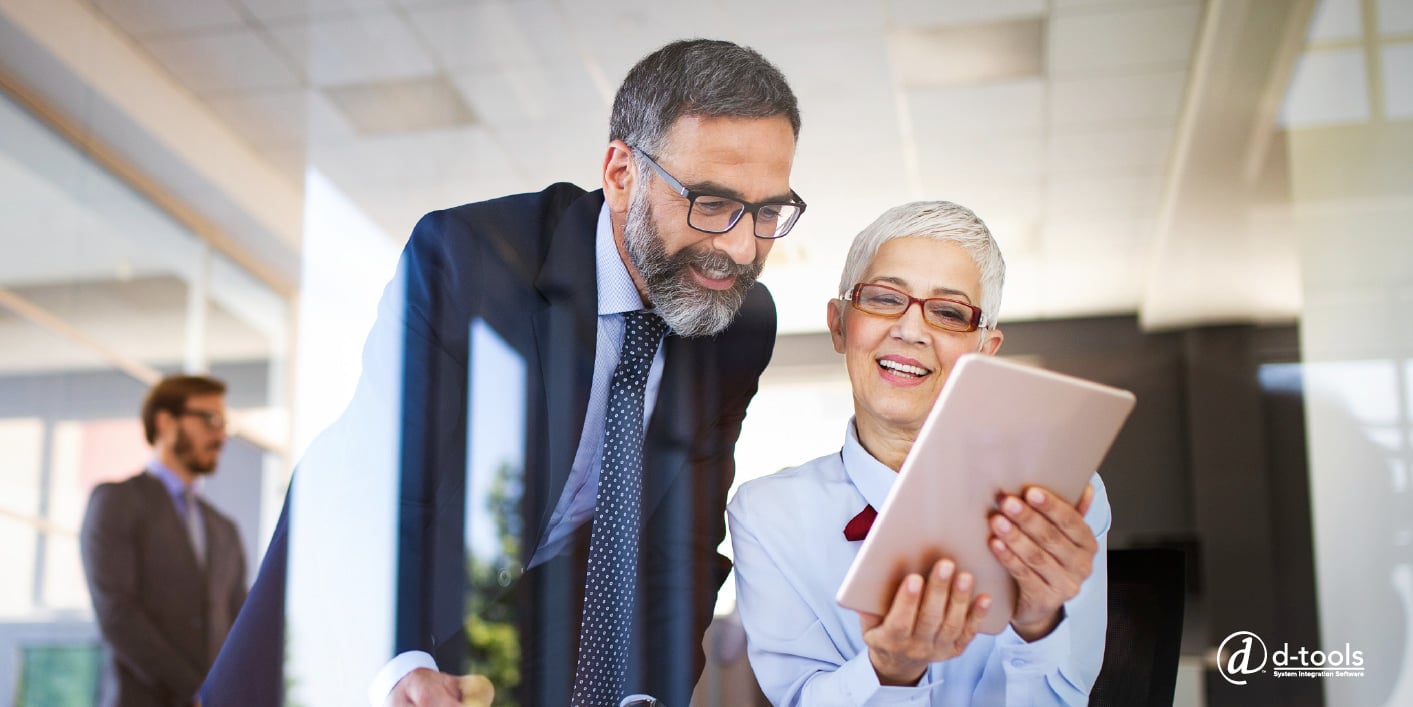 When you work in systems integration, it's important to remember that the equipment and installation are only half the story. Equally important is how you plan to provide service and support your customers - and ensure that you are compensated for this.
Once you've created a fantastic proposal, won the bid, and carried out a flawless installation, there is a window of opportunity to develop an ongoing relationship with a client through additional services. Selling a service plan alongside your equipment ensures valuable ongoing revenue and provides the customer with peace of mind. But how do you showcase the benefits and value of a service plan and prove to clients that it's a worthwhile investment?
This article explores how to confidently broach the subject of service and protection plans with clients and build a long-lasting relationship that benefits both you and your customer.

Getting Started with Service Plans
Put simply, a service plan is a contract that provides customers with repair and replacement coverage for a specified period of time. Whether you're in BAS, HVAC, AV, or security systems integration, your service goes beyond equipment manufacturing and installation. With the right presentation and value proposition, your customers will sign up for a service plan when they make their initial purchase or add a service plan to their existing equipment.
Many service plans cover the cost of replacement parts and labor, while coverage for shipping is a less common inclusion. Protection plans are similar to service plans but usually include additional features such as extended warranties and accidental damage coverage. While service and protection plans can seem like unnecessary expenses, they can save customers money in the long run.
Despite the equipment, software, and services you provide being vital to a customer's business operations, the additional and seemingly unnecessary cost of a service plan leaves many hesitant to purchase.
However, by opting for a service plan, customers will receive prompt support if/when a problem does arise. As well as saving money on repairs, a service plan allows customers to minimize costly downtime. Offering regular maintenance checks within your plan can also alert them to any potential issues before they cause damage.
Service vs. Product
Just as insurance can offer peace of mind against accidents, loss, or damage, a service plan can be a wise investment for any business in need of essential equipment. But service plans are not only beneficial for customers — they can also be an incredibly effective source of ongoing income for your business.
Perhaps you've previously been focused on product sales and have let your service plans and protection plans fall by the wayside. Product sales are, of course, a vital aspect of your business. However, after the initial transaction, there's a chance you may not see that customer again.
A service plan, on the other hand, ensures a reliable income from a customer for a prolonged amount of time. Moreover, because service plans often involve a higher level of customer service and support, clients are more likely to be satisfied with the service and less likely to switch to a competitor.
On a similar note, by providing excellent maintenance, repairs, and warranty services, you'll see a higher customer retention rate. Why is this? Offering services allows you to establish and maintain stronger, more personalized customer relationships. Clients will feel cared for and supported, allowing you to build trust and showcase your reliability. As a result, customers who opt for your service plans are more likely to renew them over time. They may also recommend you to other customers, driving further business to you.
As you can see, service plans offer a host of benefits for both you and your customers. They are an excellent way to continue developing excellent client relationships beyond equipment purchase and installation. They also ensure a reliable source of recurring monthly revenue (RMR).
The question is, how do you highlight service advantages to your clients? When selling products or systems, there are tangible items a customer can see, hear, or touch. They know what they're going to receive, and it's easy to identify that there's something wrong if an issue arises. In contrast, services can seem more elusive. Their value may not be immediately apparent, so you need to highlight their advantages differently.
And this is exactly the challenge to overcome when offering service plans alongside your products and projects.
Related Read: Why After-Sales Service Is Important

Learn What Your Ideal Customer Needs
When working on how to sell more service plans, the first step is to make sure you're offering support that customers truly need and want. A service or protection plan that doesn't immediately strike a customer as relevant and valuable will be off-putting. It could be counterproductive, causing them to feel pressured into additional purchases and seek a competitor's services.
Instead, conduct extensive research to discover what really matters to your client. Do they work in healthcare and require 24/7 call-outs to repair their HVAC systems, for instance? Do they have a major event coming up which requires their AV systems to be fully calibrated and any firmware updated? In addition, you may find that some clients may require several separate services or technologies – how can you parcel those up in a plan that brings value to both their business and yours?
To work out what your customer needs, you might want to go back to basics and develop a comprehensive target customer profile. Consider their aims and objectives, their obstacles and pain points, and how your services can help them get the most out of the equipment you provide.

Educate Your Sales Team on Selling Recurring Service Agreements
As we've discussed, selling a product differs from selling a service. And when you're looking to sell ongoing services over a long period of time, your sales technique requires a different approach.
It's important to help your staff understand the best ways to promote recurring service agreements. Unlike a piece of equipment, which will result in a one-time payment, recurring service agreements result in regular, smaller amounts of revenue over a more extended period – whether that's six months, a year, or more. They also involve a longer, more complex sales cycle.
When selling services, there should be more of a focus on building a relationship with the customer. You want to nurture a positive partnership with clients, so it's vital that your team members develop this early on. Clarity is key here, too. When explaining service plans to customers, both parties must understand exactly what the agreement entails. Ensure staff are able to illustrate the benefits of the services on offer so the customer can see they are worthwhile. At the same time, it's also important to confirm details, so nothing is left open to interpretation – you don't want to risk crossed wires.
Providing relevant training and marketing materials is an excellent place to start when educating your team on selling recurring service plans. Present them with stats to show the positive effects more service plan sales could have on your company's revenue. Adjust commissions and compensation to provide incentives to drive enthusiasm within your team and encourage them to sell more service plans.
Items to Include in a Recurring Service Agreement
Before training your staff on recurring service agreement sales, you need to determine what your offer will consist of. Write up a clear and concise description of what your service agreement will entail.
A description of the services and scope – Just like any contract, define the type of services you'll offer and specify the scope. What will and won't be included? Will you schedule regular maintenance checks or simply be ready to troubleshoot any problems that arise? Be as specific as possible and, remember, this should be tailored to the customer. By setting clear boundaries, you'll be able to manage client expectations and minimize the risk of misunderstandings.
Costs and timeframe – Set a monthly and annual price, and itemize so the customer knows exactly what they're paying for. Include any other expenses that could occur– for example, if any travel will need to be paid for when called out to repairs. You'll also need to state when the agreement will expire.
Standards – As well as indicating what services your customer can expect, indicate what level that will be. Show the quality of care and attention you'll offer. By having it in writing, there will be more accountability to ensure you provide the highest standards of service.
Monitoring and reporting – Will you schedule regular maintenance checks or offer auditing services? Within your agreement, set out exactly how you'll go about these tasks.
Emergency repairs – A significant part of providing a service plan is offering your customers peace of mind. They need to know that you'll be able to support them in the case of an emergency. Within this, make sure you set realistic expectations. If it will take your technicians a long time to travel to the site in question, let the customer know a reasonable timeframe.
Contract termination protocol – If you're unable to provide the services stated, will your customer be able to terminate the contract? If so, how? Make sure all of this is clearly explained.
Related read: Tip of the Month: How to serve you best... Service Plans are now live in SI! | Proposal, System Design & Project Management Software
How to Sell a Service Plan
Now that you know the importance of a clear service plan that's tailored to your customers' needs, it's time to put it into practice. Here are some tips to help you engage customers, highlight the benefits of a service plan, and close more sales.
Build It into Your Sales Process
Your first instinct may be to treat your service plans as an add-on to your sales. This may particularly be the case if your customers are unaware of the benefits a service plan can offer them and have previously shown some resistance. In fact, building your service or protection plans into your sales process early on can vastly improve your success rates.
If you sell a product and then bring in a new service, you essentially have to close the deal again. This lengthens the sales cycle and requires you to convince the client a second time. By presenting the service plan alongside your initial product or offer, you can showcase how they work seamlessly together as an overall solution. And because by this point you will have developed a relevant, valuable service plan tailored to your customer's needs, they'll be more likely to opt for it.
Be Aware of Budgets
Setting a service plan fee that demonstrates value for money to the customer and sits comfortably within your budget is a balancing act. It's important to appeal to your client in terms of cost, without compromising on the project's profitability to your business.
It's important to recognize the budget and margins your customer has, too. Do they have enough revenue to allocate to ongoing services alongside their equipment purchase?
Create Powerful Proposals
We can see that integrating service plans into your sales process is beneficial. Why not factor the costs into your original proposal? By offering a comprehensive service that includes all ongoing maintenance and fees, you'll stand out from the competition.
Customers like transparency. It can be frustrating to get partway down the sales funnel and then realize you have additional fees to pay. An all-in-one offer, right off the bat, is much more appealing, sets realistic expectations straight away, and shows that you've thought about the customer's ongoing needs.
Why not explore how our proposal and sales management software solutions can help you win more bids?
Related read: Proposal and Sales Management Software Solutions to Help You Win More Bids
Make It Easy to Purchase Your Service
As well as transparency, customers like a smooth, straightforward sales process. Regardless of when they purchase a service plan from you – whether it's integrated into your initial proposal or they add a plan on after installation – ensure your payment integration software provides a simple and streamlined process.
Good payment integration software should also allow customers to easily view and manage their service plans beyond the initial purchase.
Consider Pricing Tiers for Flexible Solutions
If you work with a lot of clients that have similar requirements, you might want to consider creating multiple price points for service tiers of varying degrees. As well as speeding up the process on your end and allowing you to close more deals, this shows the client that you have experience in their sector.
A clearly defined price range with a level of customization is likely to encourage a customer to go with your service plan over a competitor's.
Offer Great Customer Service and Follow-Up
It's clear to see that system integrations projects do not end at installation. If a customer doesn't opt for your service plan when they purchase equipment from you or hire your team for installations, it's still beneficial to build a positive relationship with them. Not only does it make the project experience more pleasant for both parties, but it also lays the groundwork for further purchases down the line.
By following up with the client once the project is over, you can showcase a level of care and attention that goes beyond cashing the lump sum from them. They'll be able to see the benefit of going with you over competitors and may come back to you for further products or services. When they do so, there's a higher chance they'll opt for your service or protection plan alongside their purchase.

How to Sell More Service Plans with D-Tools Software
Selling service plans requires a careful, consistent, and transparent approach. It's important to introduce customers to your service plans early on in the sales process and offer a clear value proposition. By developing strong proposals that integrate your service and protection plans – rather than treating them as an add-on – you can show your clients how you'll support them beyond the initial project or installation.
With D-Tools Systems Integrator (SI), you'll have everything needed to define, create, sell, and manage service plans for new and existing projects.
Ready to start selling service plans? Request a guided tour – we'd love to walk you through the process so you can add more value to your customers today!