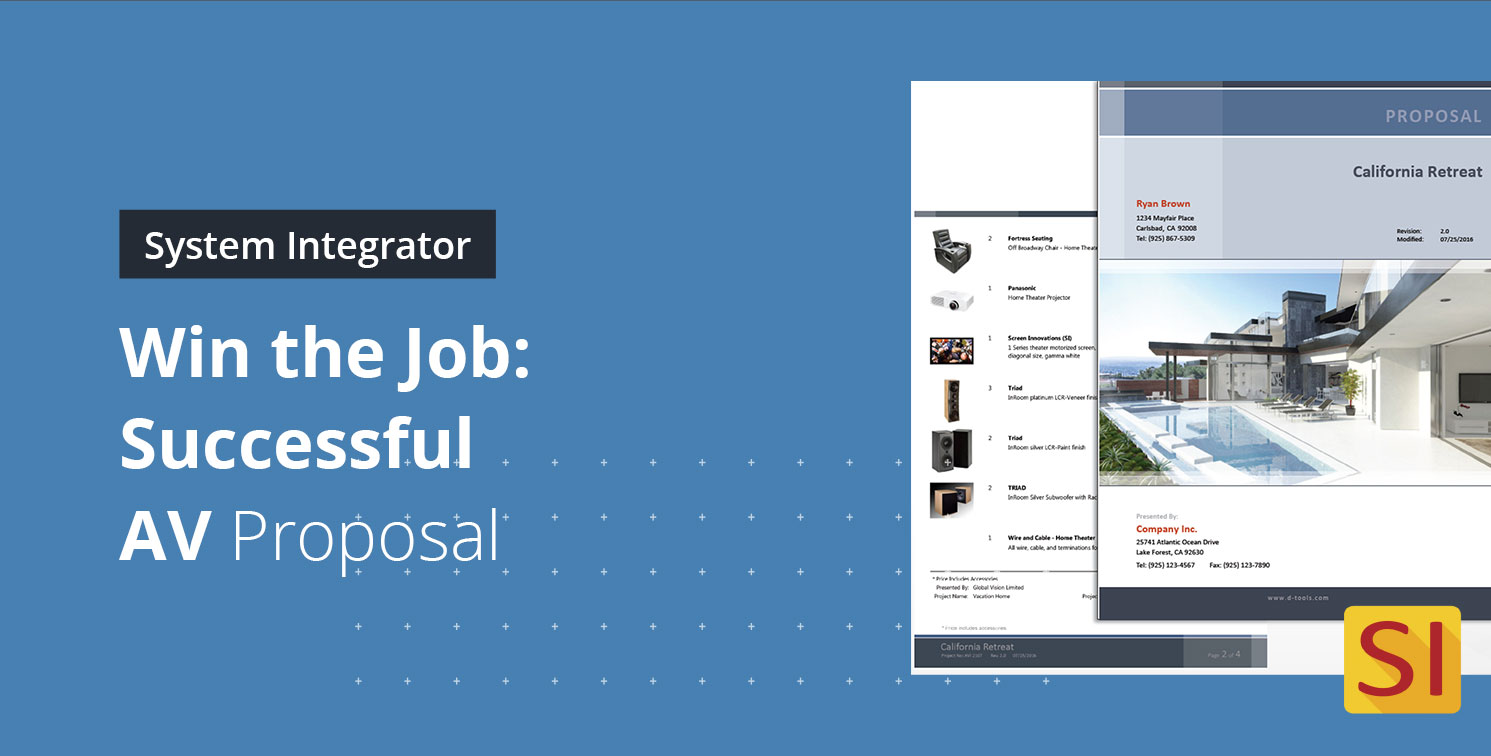 Every project for an av system integrator starts with the initial client engagement, which is the first step in establishing trust to get the foot in the door for the bid—an often competitive process. The project proposal is as essential to a business as it is to the client. It can make the difference between winning the job, which directly affects company revenue, or losing out to the competition, along with any resulting referrals that could lead to additional business.
Implementing the right av proposal software elements are critical in the beginning stages of a project. Let's take a look at key elements that can help produce a successful AV project proposal:
CRM integrations
An Integrated product library
Accurate budgeting and accounting
Mobile quoting capabilities
Proposal drawing integrations
Service plan generation
eSignatures
In this article, we discuss how incorporating these elements into an AV proposal can help integrators set and meet client expectations, adhere to budgets and timelines, outline what a successful delivery would look like, accurately determine project profitability, and ultimately help win more jobs.
Must-Haves for Your AV Proposal Software
CRM Capabilities and Integration
AV system integrators face many challenges associated with managing leads and opportunities through the sales process and beyond. Poor communication and incomplete information,can mean the difference between success and failure. A great way to avoid such risks is to ensure that CRM capabilities (such as lead management, pipeline tracking, and reporting) are available either as part of a proposal software solution, or integrated into the workflow. A proper CRM integration ensures that client, product, and project information are efficiently, seamlessly, and accurately managed, from initial lead capture and sales opportunity through signed contracts and beyond.
Industry-leading CRM applications, such as Salesforce or Zoho, are examples of the many platforms that offer CRM integrations with av proposal software solutions, such as D-Tools', to help streamline and standardize sales processes and improve operating efficiencies. These integrations provide effective visibility and accountability, and allows sales teams to better manage opportunities, and financial teams to accurately track revenue and expenses.
Integrated Product Library
For sales teams, product catalog management can be extremely time-consuming. Over time, product information can become outdated, riddled with errors, and littered with duplicate entries. The time it takes to keep product and pricing information current could be a full-time job. When it's time to generate and present a professional av proposal, it can often be challenging to not only find essential products for a given project, but ensure that information and pricing are accurate. This can lead to overlooked equipment, under-estimated labor time, and more.
Having an AV proposal software solution with an integrated product library ensures that pricing and product data is accurate, readily accessible, and can be quickly updated from within the software to help drastically reduce product research time, providing teams with the ability to respond to bid requests more quickly. This will also significantly reduce the likelihood of missing items or specifying the wrong parts, which could result in a loss of project profitability.
Accurate Budgeting and Accounting
Improper project budgeting and accounting have numerous adverse effects on an av system integration business. It is critical to closely examine these elements when it comes to av proposal software.
Establishing trust begins with the initial client engagement. Determining project scope and budget with agreed-upon deliverables can often be a determining factor in a winning proposal.
Accurate budgeting is also critical, as allocated labor time is often under-estimated, and common project materials overlooked, potentially resulting in an overall lower bottom-line.
Accurate accounting is also needed to track project cost estimates, expenses, billable and non-billable elements, etc. Integrations with leading solutions such as QuickBooks can be beneficial during this stage, which ultimately eliminates the need for double data entry and allows for accurate accounting, purchasing, and invoicing.
Mobile Quoting
How often do you hear questions such as, "how much is that going to run me," or "what are other options," during an initial walkthrough?
These are legitimate questions often asked by prospective clients when reviewing a project, especially on-site, making mobile quoting capabilities essential—especially when looking to shorten the sales cycle and reduce the need for proposal revisions. Presenting a quote from any web-enabled device enables salespeople to create a realistic scope and budget for their clients' approval in a preliminary meeting and/or walkthrough, and provides the parties andopportunity to get to an agreement knowing that proposal price and budget adherence will be met.
D-Tools is one of several av proposal software providers with mobile quoting capabilities. D-Tools' Mobile Quote app makes it easy to walk prospective clients through available technology options, sign approval of a project scope and budget, and even collect a design retainer, in the initial client meeting, while also eliminating the need to waste valuable time on proposal revisions.
For salespeople looking for an easy-to-deploy web-based solution, D-Tools' offers a cloud-based platform, D-Tools Cloud, that drives sales for av system integrators that offers sales pipeline management, on-the-fly estimating using a drag-and-drop interface from any mobile device, and more.
Proposal Drawing Integration
System drawings represent the most straightforward way to communicate project parameters to the client, as well as in-house team members, sub-contractors, and other trades. Many AV system integrators utilize industry-standard drawing applications such as Microsoft Visio and AutoCAD for system documentation. Still, they are used as external applications and do not work directly with the other tools needed, such as av proposal software.
Software with integrated drawing capabilities can provide valuable communication-enhancing and time-saving benefits. When accurate product information available for an av proposal can directly integrate with Visio and/or AutoCAD drawings, detailed product specifications can be cross utilized to generate detailed engineering drawings that serve as a visual representation for the clients. Incorporating drawings enhances the readability and aesthetic of av proposals and helps clients visualize the completed project. Detailed and accurate system designs can be the differentiator that helps win the job.
In addition, proposal drawing integrations simplify the process by reducing the time and work required to create av system designs. This improves efficiency during the design phase, resulting in reduced errors and omissions.
Finally, av drawing integrations help maintain all system design information for clients, such as as-built drawings, creating a central repository for all project-specific information. This is especially important and valuable for generating and managing service plans, which will be touched on later.
Service Plan Generation
While winning the job cements customer acquisition, retaining that customer for life is the long game—a combination of repeat business and recurring revenue. Therefore defining, creating, and selling service plans for new and existing clients are key elements for companies early on in the bidding process. It is important to keep the client's budget in mind when creating these, as signing off on a service plan shows trust enough for the customer to engage in a long-term relationship. Often, companies walk away when the project is complete, but a successful service plan ensures that a company will be there to ensure the technology and services provided continue to last, with the customer's best interest in mind.
eSignature
While some companies still opt to have their clients sign documents on printed-out PDFs, providing the option for a digital signature as part of av proposal software can offer significant benefits.
A key to successfully winning a bid is consistent client engagement right from the start. Implementing e-signatures, especially when connected to a Customer Portal, is a convenient way to expedite the sales process and ensure more interactive communications with clients. It also ensures that important client documentation is easily accessible in a portal that will remain secure.
Like other av proposal software providers, D-Tools provides a Customer Portal that enables companies to publish proposals, contracts, change orders, and other client-facing documentation to the web any time and from anywhere. Clients can connect to log-in to a secure web portal and review documentation, make comments, and accept or reject critical business documentation. Companies then are notified when a customer reviews, comments, or accepts proposals, streamlining and expiditing the sales process..
In addition, leveraging payment processing applications, such as ProPay, especially when it integrates with an av proposal software, provides companies with the ability to quickly set up and collect deposits online at the time of signature, while also providing their clients with the ease and peace of mind of safely transmitting payment digitally.
Take a Tour of D-Tools AV Proposal Software
Find out how D-Tools AV proposal software can help you expedite the proposal process, win more jobs in 2021, and manage your system integration projects. Contact us today.