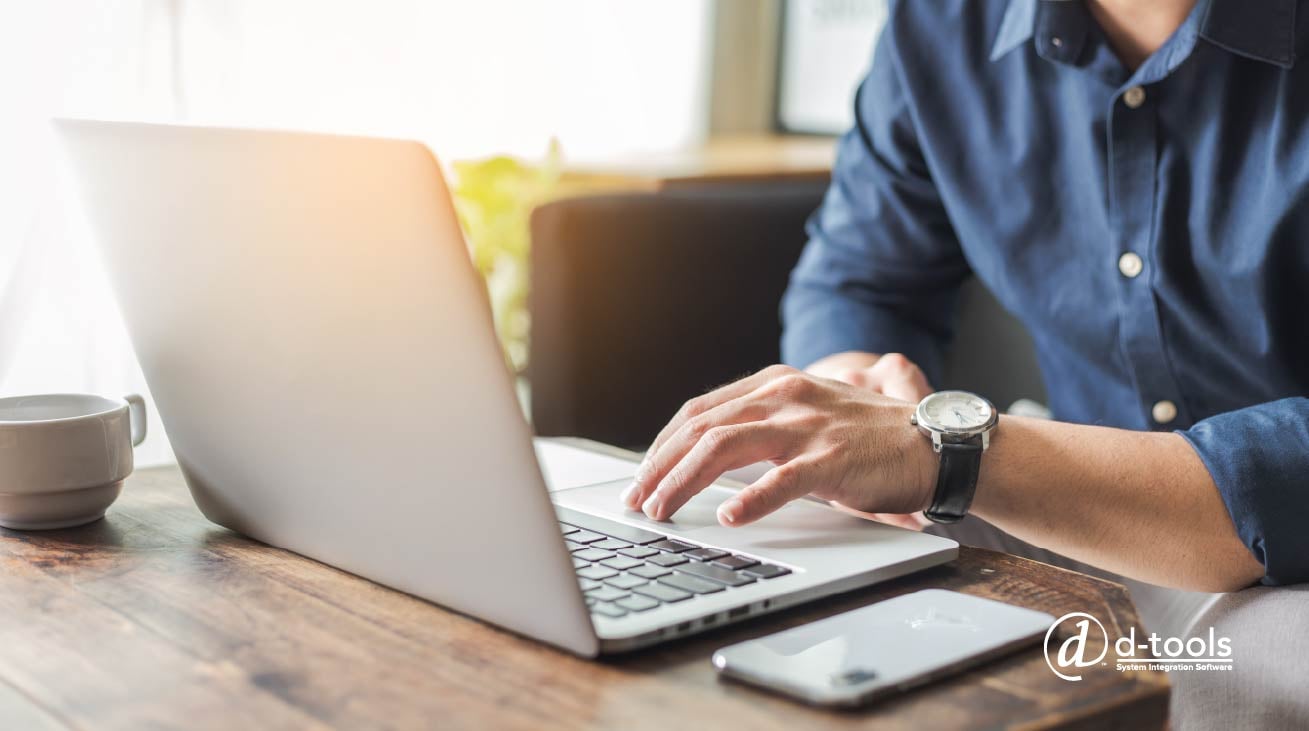 Along with the sales process, system design is a critical stage for any system integration project. Implementing AV system design software is vital, as engineering drawings represent the most straightforward ways to communicate project and installation details with clients and teams while providing valuable time- and cost-saving benefits. In addition, system designs create uniformity across all areas of a project while eliminating scope creep and re-work by clearly and accurately documenting the systems defined.
In this article, we'll discuss five features to look for in AV system design software that can help you better manage projects from initial client contact through ongoing servicing:
Usability
Collaboration
Standardization
Integrations
Adaptability
5 Features of a Great AV System Design Product

Usability
Usability refers to the quality of a user's experience when interacting with a software application, along with its effectiveness and efficiency. An AV system design software solution that is easy to use and performs as intended to aid in design helps increase productivity.
There are many complex AV system design software and engineering platforms that can help system integration companies, especially in commercial AV, security, and higher education spaces. However, depending on company size or project criteria, especially in the residential audio visual sector, software usability is key. With the growing need for drawing solutions that are easy to deploy, use, and produce, there has been an increase in demand for web-based drawing platforms.

D-Tools offers this unique user experience with a cloud-based AV proposal software platform, D-Tools Cloud. Its browser-based drawing capabilities allow sales teams to quickly and easily create data-driven drawings based on uploaded floorplans and photos. Uploaded images can be used for markups, take off, and to enable visual quoting from any device, based on a quote's bill of materials. Because it is a browser-based application, D-Tools Cloud drawings are easily created through a drag-and-drop interface without the need for outside drawing applications such as Microsoft Visio or AutoCAD.
Collaboration
A successful design is a collaborative effort. A true understanding of the client's needs and wishes happens after multiple conversations about the project scope, budget, and timeline. Initial drawings may serve as the entry point but, in many cases, changes and revisions are inevitable. In addition, drawings can enhance the AV proposal process, providing visual aids for the client to gain a better understanding of what's possible and offer feedback on what might need to be adjusted to achieve their goals. D-Tools Cloud's browser-based drawings are built for such collaboration.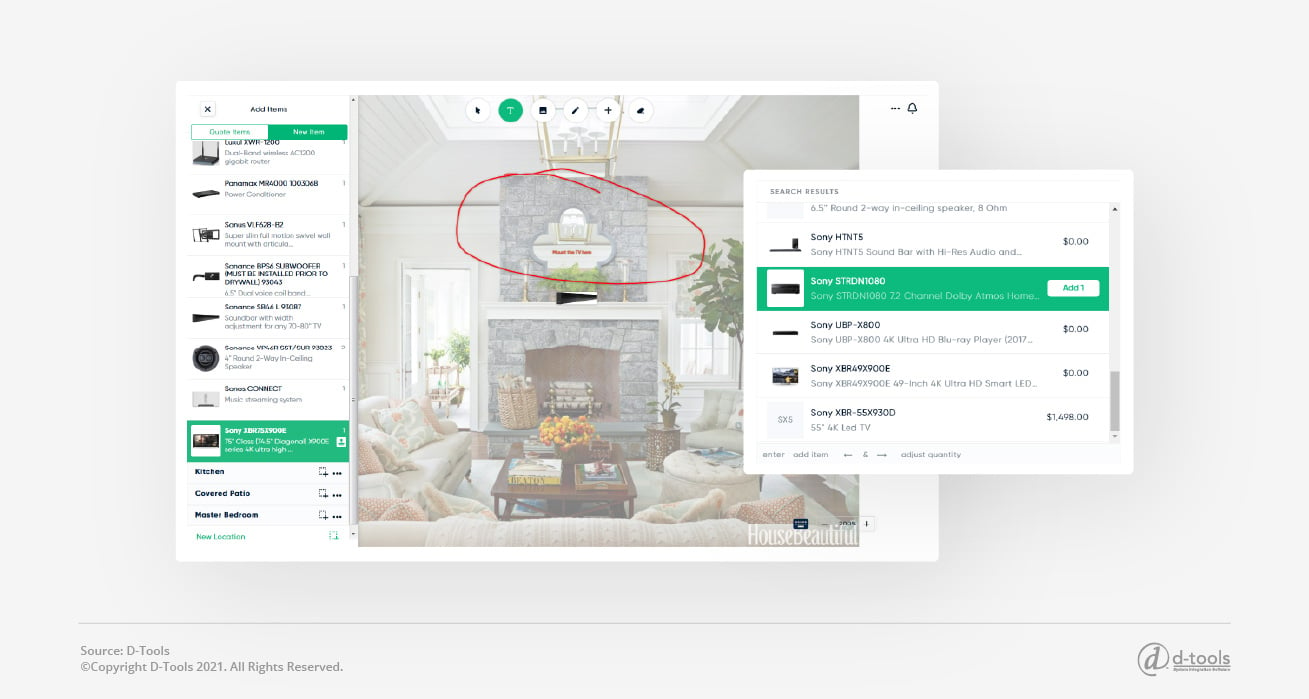 In addition, D-Tools Cloud's visual quoting capabilities enable users to quickly and elegantly add products to floorplans from any web-enabled computer or tablet. Ideas can be sketched out, and photos can be marked up in a collaborative environment with clients in real-time. This helps validate designs while providing visually-rich client experiences to help close sales quickly.
Standardization
Standardization is an important component of AV system design software from a drawing and technical perspective, as it helps provide clarity from engineering teams to ensure the installation is completed as planned. Utilizing industry standards creates uniformity and consistency within any given project as well as ensures a higher level of professionalism for the client.
AV system integrators utilizing industry-standard symbols, stencils, and graphics for their drawings deliver needed clarity and consistency to project partners and cross-functional teams. Companies able to standardize drawings for a project simplify reading design documentation and improve efficiency and accuracy.
For this reason, D-Tools has created a free app, FreeTools PSL (Professional Symbol Library), which integrates with our on-premises System Integrator solution. FreeTools PSL provides Visio users with multiple libraries of industry-specific plan view symbols and Visio drawing templates that make it easier to create system designs using universally accepted industry standards.
Integrations
Visio and AutoCAD are the industry standard drawing applications for designing systems across many vertical markets. Still, they are used as external applications and do not work directly with the other tools needed, such as av proposal and project management software. AV system design products that integrate with other applications provide great value across a company, including sales teams. These products can deliver many communication-enhancing and time-saving benefits.
For example, when system design software directly integrates with an av proposal solution, that detailed product information can be cross utilized to generate detailed proposals. It enhances the readability and aesthetic of proposals and helps clients visualize the completed project.
D-Tools System Integrator is one such solution that directly integrates with both Visio and AutoCAD. The solution operates on a data-driven process, meaning that while engineering teams create these drawings, the drawings are automatically synchronized with the project bill of materials to ensure that all documentation is accurate and up to date. This not only improves communication with clients and internal teams, but also reduces the likelihood of error while saving precious time (and the costs associated with that time).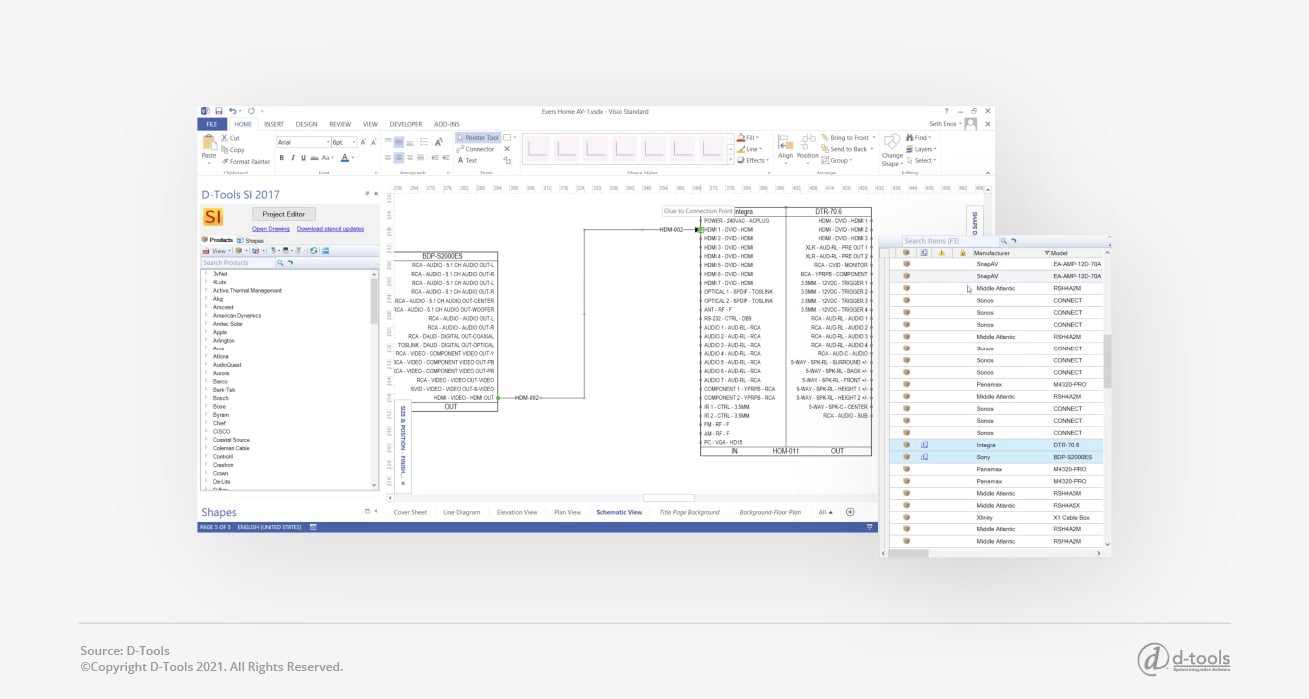 Adaptability
As-built drawings create a central repository for all project-specific information for both companies and their clients. This is especially important and valuable for security integrators and technology managers in commercial security and corporate AV spaces, as well as higher education and government facilities.
As technology continues to advance, upgrades to systems are often unavoidable. AV system design software with the means to thoroughly document and store project information reduces errors with the ability to recognize when equipment has been previously installed or connected. This is critical as it allows AV system integrators to quickly adapt to the ever-changing technological environment.

With so many AV system design software solutions available, it can be difficult to narrow it down to just one. Make sure to look for the best fit for you, your team members, and your clients to help improve client engagement and customer satisfaction, as well as to ultimately increase operating efficiency and profitability across your business.

Schedule a Guided Tour
Find out how D-Tools' award-winning software helps integration companies implement these AV system design features to streamline and manage projects while ensuring clear communication for clients and teams.