Integrators utilizing industry standard symbols, stencils and graphics for their system design work deliver needed clarity and consistency to project partners and cross-functional teams. They also are provided the opportunity to compete for bids at a higher level, earn and maintain project access, streamline processes, and boost their bottom line. That is why we have developed a free D-Tools app for your use called FreeTools PSL (Professional Symbol Library).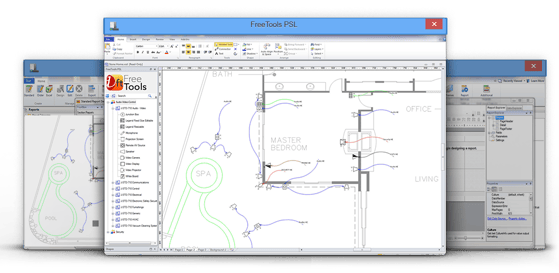 What is FreeTools? FreeTools is a free D-Tools application designed to provide Microsoft Visio users a library of multiple industry-specific plan view shapes. Downloading FreeTools will make it both easier to create drawings using universally accepted industry standards and clearly communicate with trade professionals. Established universal industry standards are an important component of successful drawing designs and technical projects, creating uniformity within any given project for clear communication across all areas in any systems installation project.
"By implementing industry standard symbols into their system design work, electronic systems integrators are provided an effective means for producing professional-looking, easily recognized proposals and design documentation that allows their firm to compete at a higher level and win more bids. Not only does standardization provide extensive value to every entity involved in a given installation, but it will also soon become a requirement. Essentially, D-Tools provides integrators a leg-up on their competition by encouraging the early adoption of industry standardized drawing shapes."
– D-Tools Founder & Chairman, Adam Stone
Moreover, drawings created in FreeTools can be integrated into our System Integrator (SI) software, providing users of the company's flagship product with a way to visually share ideas with clients and partners, then bring those drawings into the System Integrator workflow for further project design and management.
FreeTools is available with three Symbol Libraries:
Audio-Video-Control (AVC) – AVC stencils are a residential version based on the J-STD-710 symbols created by a joint committee from CEDIA, CEA, and InfoComm.
Security – Our Security stencils are based on the SIA Architectural Graphic Standard.
Custom – The Custom stencils contain useful symbols such as wire, text call out, and a Universal dimension shape.
NFPA (National Fire Protection Association) – These stencils are based on the NFPA 170 Standard for Fire Safety and Emergency Symbols.
ECD (Electrical Construction Drawings) based on the NECA-1002606 standards. (coming soon)
FreeTools ships with a pre-defined set of drawing templates based on metric and imperial unit drawing sizes. Once the FreeTools software is registered, all drawings will feature your company information, logo and project information for a professional look. Users can import a floorplan into the drawing template and add the FreeTools symbols to the drawing, referencing mount type, specify colors and labels, and more.
Check out our FAQ's Page to learn more and download FreeTools today!
Our Customer Success Team is committed to ensuring your success with System Integrator, please feel free to contact us at csm@d-tools.com.
– The Customer Success Team