What's old is new again! Revisiting some of SI's foundational features.
While the release of our next Systems Integrator release, v18, is imminently pending, we thought it would be a good idea to revisit some of the features that make SI a great platform for our users to have as the primary hub of their software operation.
This article will provide a refreshing retrospective of the D-Tools product data database known as the "D-Tools Product Library" and the SI user's local database, the Catalog, including how to maximize some the utilizations of both.
Product data, and the related usage, can cement your team's focus that leads to a path of ultimate success with SI and definitely contribute to long term profitability.
---

The D-Tools Library
What exactly is the "D-Tools Product Library"?
D-Tools Product Library is an integrated repository of thousands upon thousands of products within and related to our industry. Along with hundreds of manufacturers, this product data is uniquely available to our Software Assurance members. It provides some of the detailed specifications, images, IOs, and more (including dealer-specific pricing) that tie directly into the software to accurately bid, quote, design, install, and service your projects and systems.
Why does this matter?
The presence of this data in your SI Catalog can translate into time saved and better accuracy. The SI Library even provides default "Shapes" and "Blocks" for your Visio and AutoCAD system designs
(respectively). This aspect alone could potentially save excruciating design/formatting time expenditures.
Tips on usage.
Well for starters, you should definitely select this checkbox in the "Filter Options" partition in the ribbon on top: "Include Discontinued Products"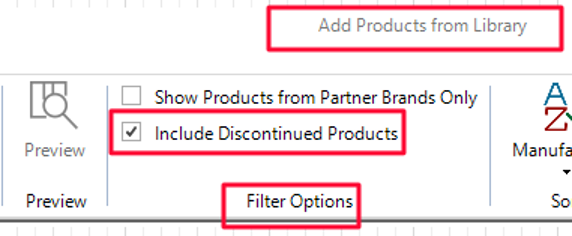 This will then enable you to see Products that have been recently declared "discontinued" by the manufacturer. If this is the case, they will then appear as such when you search for them:



Secondly, you should adjust your "records return per page" to 50. (bottom right corner)



This will allow you to see the maximum number of products per page. Hint: This is also related to the maximum number of items you can download from this database at one time (50).
Lastly, the SI Library will now allow you to map the default to "Phases" in the SI Library to your preferred phase name in your Catalog.

This is often an overlooked feature setting that, if not set correctly, could allow your items downloaded from the SI Library to go into a "null" phase designation thus preventing them from being compounded in "phase based" labor computations in an SI Project. This is what we longtime SI users call a "no-no".
The SI Catalog
The SI Catalog is a collection of (3) separate "Explorers" that house all of the items that can be accessed from your SI Projects to form your "bill of materials".
They are named as follows:
Product Explorer
Labor Explorer
Package Explorer
The Product Explorer
Loosely referred to as "the catalog" within in SI, is your local database of all products and materials that you can place in an SI project. While it is easily comprised of items from the SI Library, users can also add their own unique, custom items as well as import lists of items via an Excel CSV importation that opens up all kinds of options for data additions and modifications.
The Labor Explorer
Another potentially critical part of a user's "catalog" is the Labor Explorer, which provides the ability to create values for distinct labor exertions related to a project's deployment. This aspect can't be aided by the SI Library and must be created by the SI users.
The Package Explorer
This is potentially a "game-changer" for some teams as this explorer allows SI users to combine both Products and Labor values as an assembly or kit with multiple entries from both catalog sections.
When combined with pricing and related labor overrides, this gives each team using SI a unique opportunity to present engineered mini-systems instead of just an endless parts list.
Why does any of this matter?
A well-crafted database of pertinent products, exact labor executions, and uniquely designed packages can be the difference between spending several hours (or days) putting a project bid together and simply spending an appropriate amount of time (perhaps 3-4 hours) organizing an ideal solution that, not only delivers on what your client is requesting, but also ensures the expected level of profit that will propel your team forward to the next opportunity.
Tips on usage.
While it is well known (and expected) that you can "Mass Update" appropriate data fields in the Product Catalog,



it is not well known that you can execute the same thing with "Accessories".



This is a huge time saver that will enable your team to explore more usage opportunities as more product associations can be easily made.
While we're mentioning saving time, how about making a labor item that can be based on Project values. That's right! Any labor item can be (as SI designates it) "Calculated".


Once you decide to make a "Calculated Labor" item, you can then determine the formula for this calculation. This opens up all kinds of specific usages to determine labor such as project management or system design based on the exact contents of any given SI Project.
Once your team gets their Packages together, you can then determine appropriate groupings of those values in what SI deems as a "Solution". As a specific part of the Package Explorer, Solutions allow SI users to combine products, labor, and packages.



This makes tackling some larger scale projects much more manageable when you take into consideration that you may have to plot systems across multiple buildings or floors (or even both) within one project bid.
Pulling it all together.
This is the real seamless integration of the SI platform. The ability to pull-together individual products, materials, labor, package assemblies, and any other project presentations that may be needed. Once you have commenced putting together your Product Explorer, the other areas of Labor and Packages should come somewhat naturally based upon how you've been quoting in the past but also how you envision quoting going forward using SI.
Combined with the SI Product Library's data, your unique Labor values, and your own Package assemblies, your team will be well equipped to exploit and leverage the very reasons that lead to your investment in SI so that you can see that ROI blossom as you win more jobs!
---


In closing…
For more information on these and other features of SI v17, please see this link: D-Tools v17. You can also review our other videos and our usual support documentation.

You can also get more detailed information about v17 via our upcoming webinars or by enrolling in SI training with our PSG team.
As always, we are reviewing your Feature Requests to determine our best step forward and next course of action with future SI product releases…so keep'em coming!
And don't forget, that's why we're here…to ensure your success with our product! Be sure to check back here next month for more on SI!!!