The new integration between D-Tools Cloud and System Integrator (SI) is now available, giving you the ability to create new opportunities and quotes efficiently in D-Tools Cloud that can then be pushed into SI. You can also send or present your quotes to your customer in a whole new way. Now with the integration, once the opportunity is marked "won" or approved, you can seamlessly publish the new project to SI to manage the project with Mobile Install, Visio and AutoCAD drawings, purchase orders, etc. Within this article, we will show you how easy it is to both set up and use this integration, so let's get started!
To use the SI integration with D-Tools Cloud, you will need a D-Tools Cloud account and D-Tools SI license key that is associated with our Software Assurance (SA) Program. Links to request quotes for D-Tools Cloud and SA can be found at the end of this article.
Once you have your D-Tools Cloud account setup, open D-Tools Cloud and click your initials in the bottom left corner. Select settings, integrations, manage, and click "manage" under the D-Tools SI icon. A window will pop up, asking for your license key. Enter it here, then click connect.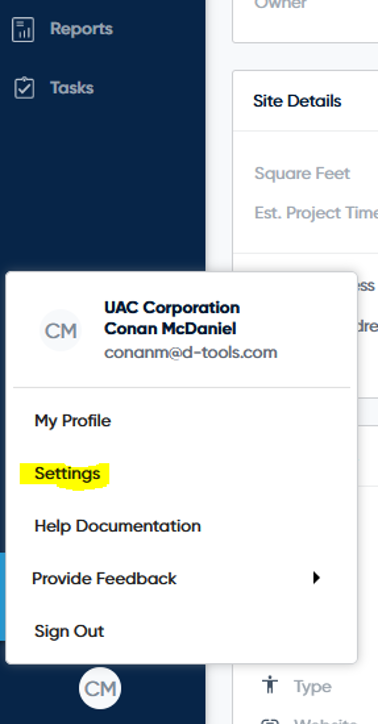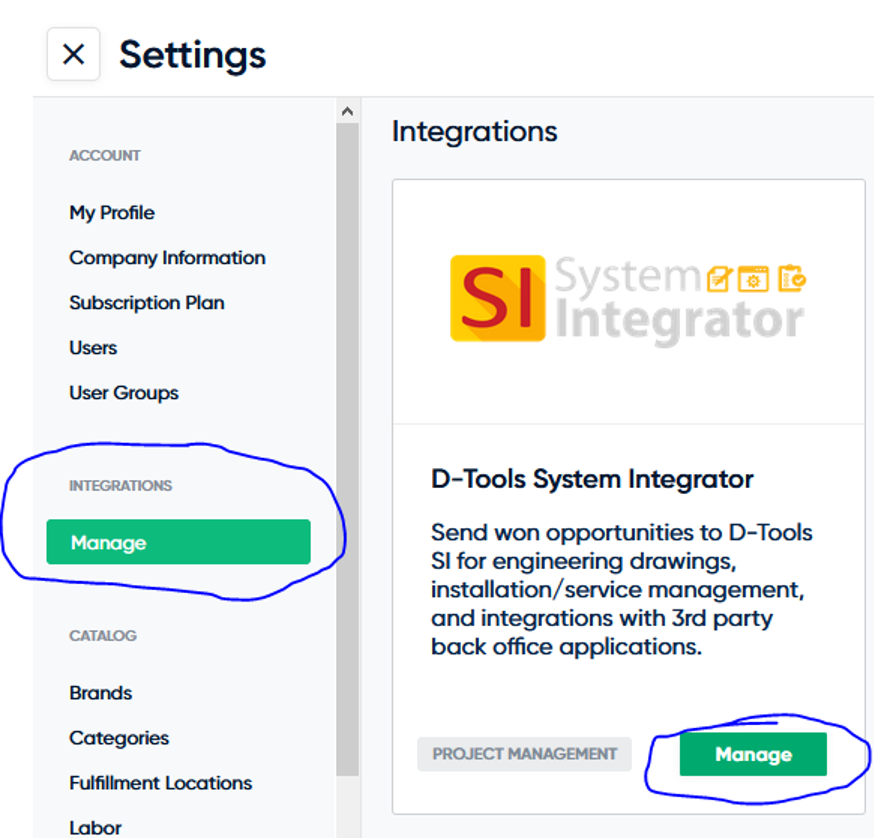 If you do not have your license key readily available, sign in to SI and click your username in the top right, then click registration, and then copy/paste your key into Cloud.


After the integration is set up in D-Tools Cloud, confirm you are on the latest version of SI by taking the following steps in SI: Start > Help > Check for Updates. Once you confirm you are on the latest version of SI, open SI and then click Start > Setup > Control Panel > Integrations > D-Tools Cloud Integration and enable the D-Tools Cloud integration.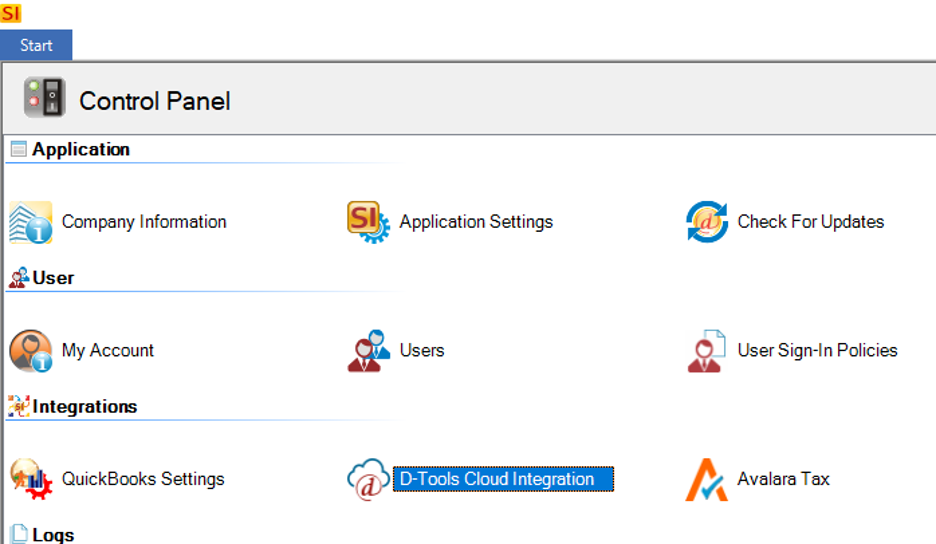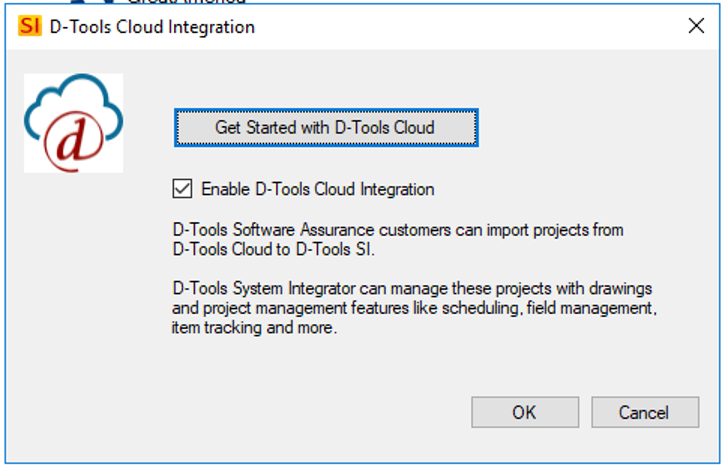 Now you are all set to start using the integration! Go back to D-Tools Cloud and mark an opportunity as "Won." A new prompt will appear, asking if you would like to use D-Tools Cloud or SI for the project. If you select SI, a banner will be shown at the top of the window saying you be able to manage the project in SI.

Next in SI, from the project explorer, navigate to a new project, and you will see a new option, "From D-Tools Cloud." Select this option to import from D-Tools Cloud to SI. You will notice a list of all opportunities you have marked as "Won" that are available for import and can import the project from here.

After you have imported the project, it will be automatically marked as approved in SI, and you can now utilize the SI change order functionality for this project.
Keep in mind that only opportunities that were marked as "Won" after the integration was set up will be transferable to SI. If you want to push an old opportunity to SI, you will need to delete the project in Cloud to turn it back into a quote. Afterward you can mark it as "Won" again and push it to SI.
Helpful links:
Contact D-Tools Support: https://www.d-tools.com/support_main
Sign up for Cloud trial: https://d-tools.com/cloud/
More info about Software Assurance: https://d-tools.com/software-assurance/
Setting up Cloud/SI integration: https://support.d-tools.com/0000_SI_Documentation_(v13)/Administrator_Guide/04_Setup/02_Control_Panel/D-Tools_Cloud
Cloud/SI integration FAQ: https://d-tools.com/cloud-si-faqs/