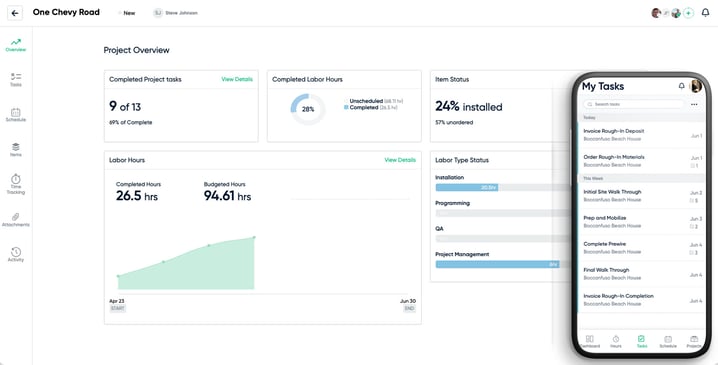 See What's New in D-Tools Cloud
D-Tools has continued to make enhancements to all areas of our end-to-end cloud-based solution to help further streamline business processes, drive sales, and improve operating efficiency.
Accounting
QuickBooks Desktop Integration
Say goodbye to double data entry and save precious time. D-Tools Cloud enables you to quickly send signed contracts directly to QuickBooks Desktop, allowing for accurate accounting, purchasing, and invoicing.

*Windows-compatible only
Sales and Proposal Management
QuickQuote Proposal Layout
D-Tools Cloud's new Quick Quote layout eliminates clutter so you can present single-page quotes to your clients quickly and easily. This customizable layout is perfect for small jobs, repeat clients, upgrades/add ons, change orders and equipment sales.

Optional Locations and Systems
Sell more by presenting your clients with optional locations and systems that they can choose to add on to their job. Show clients your vision and allow them to select these add ons right in your proposal. Once they make a selection, all product and labor totals will be automatically updated on their proposal in real time.

Client Selectable Options
Increase the chances of making a sale by providing customers with multiple options that they can select right from the proposal. Improves the buying experience by helping customers feel more control of their purchase decision.
Proposal Valid-Until-Date
Stay ahead of the competition. Set a date and time the client has to view the proposal to prevent shopping around.

Contract Reminder Emails
Stay top-of-mind for your potential clients to enhance close rates. Automatically send reminders to clients before the contract's expiration date.

Avalara Automated Tax Compliance
Focus on growing your business, not constantly updating changing sales tax rules and rates. Through a direct integration, you can now provide your clients with fast, accurate tax calculations as part of the proposal process.

*Currently only available to U.S. users

Proposal Fonts and Colors
To help customize your proposals for client engagement, match your branding with custom colors, and select from ten different fonts to wow your customers and close more business than ever before.
Proposal Display and Ranking Order Rank the order of products to ensure they appear where you want them in every location or system. Drag and drop items to highlight the most important products in your proposals—sort by name, price, or rank and then fine-tune by dragging into the perfect position.
Quote By Category
For your viewing pleasure, you can now arrange products and view totals by category and subcategory in your quotes.
Live Proposal Editing
To help arm sales teams, an as an improvement to customizing proposals, a live proposal editing functionality now makes it easier than ever to design and customize stunning proposals improving client engagement and helping close business faster.
Visual Quoting
Path Calculation
D-Tools Cloud's visual quoting allows sales teams to bring projects to life and creates a collaborative experience with the client.
Visual quoting as a tool has improved with the ability to visually calculate paths for wire, cabling, etc., as part of your plan views. Users can now measure a known distance (window, doorway, etc.) and add those length-based items to the drawing. The wire and price needed are automatically calculated then added to the quote. With the path to the doorway created to scale, your wire and other items can be purchased and pulled to scale, improving efficiencies for sales and installation teams.
Coverage Shapes
As an enhancement to D-Tools Cloud's visual quoting tools, you can add coverage shapes to items in plan views, providing a visual map to help clients better understand the design in terms of the area covered by a given camera, WAP, etc.
Payment Processing
CardConnect and Stripe Integration
In addition to ProPay, D-Tools Cloud has now added CardConnect and Stripe as options to collect your initial deposits. With our Stripe integration, you can collect electronic payments as part of the Proposal Acceptance process. This is a great way to get approval on a new project and collect your initial deposit without the hassle of sending a check in the mail.
Project Management Suite
D-Tools Cloud's new project management suite provides a new way for project managers to plan and manage installations, while enabling field techs to execute on project plans. Stay informed, adapt to project changes, and collaborate between the office and the field.
NEW! Cross-Project Scheduling
D-Tools Cloud's new cross-project scheduling feature allows office users to see what's going on in any given week eliminating the need to jump back and forth between D-Tools Cloud and external calendars. Schedule events to your teams using the important information already compiled while closing the deal and creating project plans. No more need to transfer information!
Scheduling
Keep organized, on-time, and on-budget. Schedule your project resources by project and phase, assign people and tasks to time slots, and prevent double-booking by seeing the other project assignments and field resource availability.
Project Task Management
Stay informed and on-task. Create tasks on-the-fly and easily prioritize and manage project-specific tasks. Assign tasks details to technicians to view for instant access and collaboration on their mobile devices – including status, assignee, description, checklists, picklist items, attachments, and comments and activity – to quickly respond to project needs and finish the job.
Project Task Templates
The addition of task templates allows project managers to quickly create a project plan with tasks, and groups of tasks, based on pre-configured templates, saving time and expediting the assignment, and ultimately the installation process.
Project Status Reporting
Improve accountability and team visibility by providing field technicians with the ability to clock in and out of projects through their mobile devices. Track specific project hours by user, project, and labor type for more accurate project reporting and payroll.
Mobile View for Field Technicians
Field techs now have complete mobility with a mobile-friendly dashboard view, providing project details at their fingertips all the time. Track for schedule, tasks, etc., as well as view "personal notifications" assigned specifically to each tech, and view tasks with associated information, including attachments. Progress photos can also be taken and attached to the task assigned.
Realtime Chat
Embedded, Realtime chat allows team members to communicate with each other directly within D-Tools Cloud, without having to switch between multiple apps or programs. This can make it easier and faster for team members to share information and collaborate on tasks, which can increase productivity. Real-time chat allows for immediate communication, which can also help to speed up the process of completing tasks and make it easier for team members to work together efficiently.