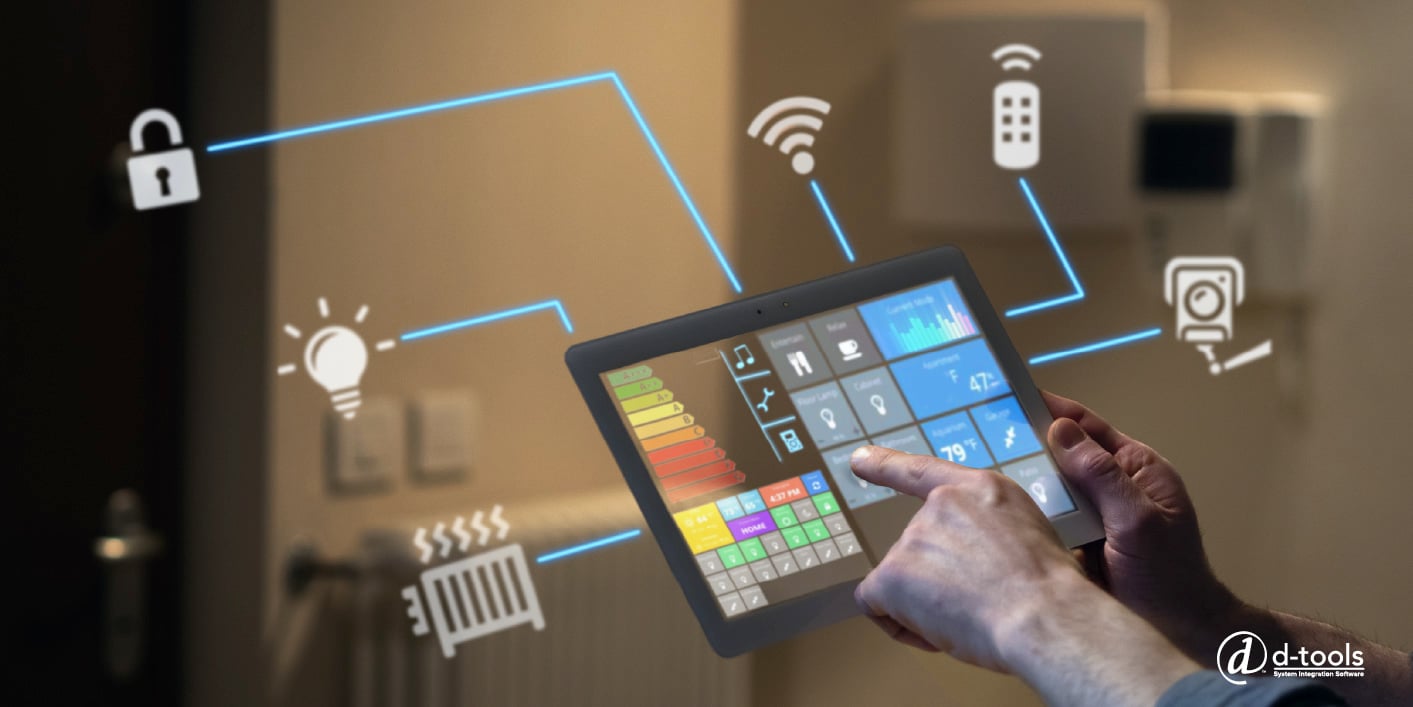 From lighting and heating to security alarms and fire systems, a building automation system (BAS) utilizes technology to simplify building management, conserve energy, and boost sustainability.
Across the US, the BAS market is seeing significant growth, with demand growing in residential, commercial, and industrial sectors. In many cases, BAS projects are undertaken to meet environmental or regulatory objectives. However, they can also provide significant cost savings by reducing a building's energy usage. As a result, there is considerable competition among contractors to win BAS projects.
To stand out in this competitive industry, it's essential to offer innovative and cost-effective solutions that meet the specific needs of your clients. You also need to communicate the benefits of your solutions to potential customers.
So, how can you showcase your unique offering and win more BAS projects? Read on for our tips for success.

What Is a Building Automation System?
A building automation system (BAS) brings together a network of control systems within a building and connects them to a single set of controls. This network could include lighting, heating, ventilation, and security systems. The setup allows you to automate the systems to reduce excessive energy consumption, improve building safety, and ensure occupants are comfortable.
A BAS uses sensors to monitor conditions inside a building and then utilizes this data to automatically adjust building systems accordingly. For example, a BAS might turn off the lights in an unoccupied room or change the temperature to save energy. As well as saving energy, building automation systems can improve safety by monitoring factors like carbon monoxide levels or water leaks.
Often, buildings that use automation systems are referred to as 'smart buildings.'
BAS use cases
Just as home automation systems offer homeowners more control over their energy usage and environment, building automation systems provide significant benefits for both owners and occupants of various commercial spaces.
Here are five use cases for BAS:
1. Office buildings: As offices are usually only occupied during working hours, a BAS can help control the building's heating, cooling, and lighting. It can adjust the temperature based on the time of day and the number of people in the building — a great way to save energy.
2. Retail stores: Similarly to offices, retail stores are usually only occupied in the daytime or during deliveries. Again, a BAS can control the lighting, temperature, and ventilation to minimize energy use when the store is empty. It also enables proprietors to monitor security systems more effectively and assess customer traffic patterns to optimize the store's layout.
3. Hotels: A BAS is also a beneficial addition to hotels and guest houses, allowing hoteliers to save energy in times of low occupancy and keep guests comfortable by managing the temperature more effectively. Automation systems can be useful for a hotel's security, too.
4. Hospitals: A BAS can help manage heating, ventilation, and air conditioning (HVAC) systems in hospitals. Not only will this optimize patient comfort levels, but it can also be used to monitor the air quality and filter out airborne contaminants. In addition, the BAS can control ward lighting, ensuring that rooms are brightly lit during the day and dimmed at night.
5. Education settings: A BAS can improve students' learning environment in schools and colleges. For example, controlling classroom lighting and temperature can create a more comfortable and conducive learning environment. Security is a priority in educational environments, and a BAS can be used to monitor CCTV cameras and alarm systems, providing an extra layer of safety for students and staff.
A BAS can significantly reduce energy usage and cut costs in all of these cases.

Goals of a Successful BAS
Whether for an education center, a medical setting, or a retail store, a successful building automation project should always have the following goals in mind.
Occupant Safety
In many settings, building automation systems can improve occupant safety — a critical element in any commercial building. Any BAS project manager must have health and safety at the forefront of their plans — from installation to customer usage.
Uptime
Another vital element to consider when carrying out a building automation system project is reliability. There's little point in installing a BAS that will conk out after a few months of use. Not only is this financially wasteful, but it can also lead to customer dissatisfaction and safety risks. So, ensure the software you choose is dependable and long-lasting.
Energy Savings
In many cases, a BAS is installed with the primary goal of saving energy. Building automation systems certainly have the capability to do so — but only when they work correctly. As a BAS provider, it's essential to ensure the systems you install are efficient. Anything less than flawless runs the risk of having the opposite impact — it can waste energy.
For instance, Rush University Medical Center in Chicago discovered that valves connected to a BAS kept getting stuck closed, and the automation system sensors weren't functioning properly. As a result, the BAS was wasting more energy than it was saving.
Staff Efficiency
A BAS can be a fantastic way to maximize staff efficiency and productivity. By removing the need to manually carry out tasks such as temperature adjustments, an automation system can free up staff time for other tasks — particularly in large buildings. However, to improve staff efficiency, a BAS must be straightforward and intuitive to use.
Related read: 9 Best Building Automation System Vendors
7 Tips for BAS Success
When it comes to building automation systems (BAS), there is no one-size-fits-all solution. Instead, it's vital to consider the type of building in question — what's its function? Which systems need to be connected? And who will be using the BAS?
Fortunately, as a building automation systems integrator, you've got a whole host of technologies to choose from. This means you can select high-quality BAS software that has the relevant features for your project.
A well-designed BAS system can help to streamline communication and workflow, while a poorly designed system can lead to delays and errors. The key is to work with a reputable provider who can offer a tailored solution that meets the specific needs of your building.
By choosing the right BAS software, you can ensure that your building project is managed effectively and delivered on time.
The following tips offer key features to consider when deciding which platform is best for your building automation system project.
Related read: 5 Steps for Choosing the Right Software for Your Business
1. Up-To-Date Design Documentation in the Field
The beauty of a BAS is the fact it allows building managers to monitor and control systems from afar. As such, real-time updates on mobile-friendly software applications are an essential feature. They enable clients to access their BAS anytime, anywhere and ensure their building systems are operating efficiently and safely.
Real-time updates also help to identify potential problems before they cause significant disruption. By continually monitoring systems, building managers can resolve issues quickly and avoid costly downtime. When choosing BAS software for your project, this is a crucial feature to look for.
2. Versatile Integration-Ready Solution
Another factor to consider when choosing a platform is its integration capabilities. Go for a versatile integration-ready solution. An all-in-one solution helps simplify workflows and makes communication between technologies easier. As a result, you can expect higher accuracy and increased customer satisfaction.
3. Check Their Track Record
As with any other product or service, it's always a good idea to look at the provider's reviews. Do you know anyone who's used their software before? Knowing that the BAS you install has a solid track record will instill confidence in your clients and provide them (and you) with peace of mind.
Moreover, software from a reputable provider is more likely to come with support and guarantees.
4. Understand Their Customer Support and Training Options
For building automation systems to be effective, they need to be properly operated. That's why it's important to choose BAS software with comprehensive training and support.
You need to know how to use the system yourself but must also be able to explain it to your clients. Customer support should also go beyond the initial installation — you want the software provider to offer ongoing troubleshooting services in case any issues arise.
Bear in mind that some providers may charge an additional fee for their support. As you are integrating and promoting their software, it should be a mutual relationship. Therefore, consider going for a provider that doesn't charge extra.
Related read: How to Effectively Sell Home Automation Systems
5. Internet Connectivity Security
Whether your clients are in education, healthcare, or any other commercial setting, chances are digital security is high on their list of priorities. They'll want a BAS that protects sensitive information or documents. When deciding which building security system software to use for your project, look for a system that offers internet connectivity security alongside data encryption and authentication.
These features will help to protect your clients' systems from cyber-attacks and unauthorized access. It's also a good idea to choose a reputable provider who can offer ongoing support and updates.
6. Accurate Design Work
Accuracy is a key part of a BAS project — from initial design to post-installation support. When planning your building automation system project, you want to ensure your proposals and design drawings are as accurate as possible from the outset.
You might like to consider using all-in-one software, like the D-Tools System Integrator.

From proposal generation and budgeting tools to document organization, the System Integrator has a broad range of tools that work together and autofill data where appropriate. These integrated features allow for smooth communication between all project team members and reduce the risk of errors.
With the System Integrator's design tools, you can create detailed, engineered drawings to share with internal and external stakeholders — all via native integrations.
7. Improved Communication Between Teams
Effective collaboration is an essential part of successfully completing any building automation system project. After all, it will likely involve a number of people — from building owners and managers to architects and engineers. Having a software solution with built-in features that facilitate collaboration can help ensure that all parties are on the same page.
For example, real-time updates and alerts, comments, and annotations can streamline the process and reduce the risk of miscommunication. You might also want to look for BAS software that allows all team members to track the project's progress and flag up any potential issues or delays.
Investing in a software solution that supports collaboration can help ensure your BAS project is a success.
Boost your BAS project success with the D-Tools System Integrator
If you're looking to increase your building automation system project success rate and win more clients, an all-in-one tool like our System Integrator can help. For more details, take a look at how the D-Tools System Integrator can help your next BAS project today.