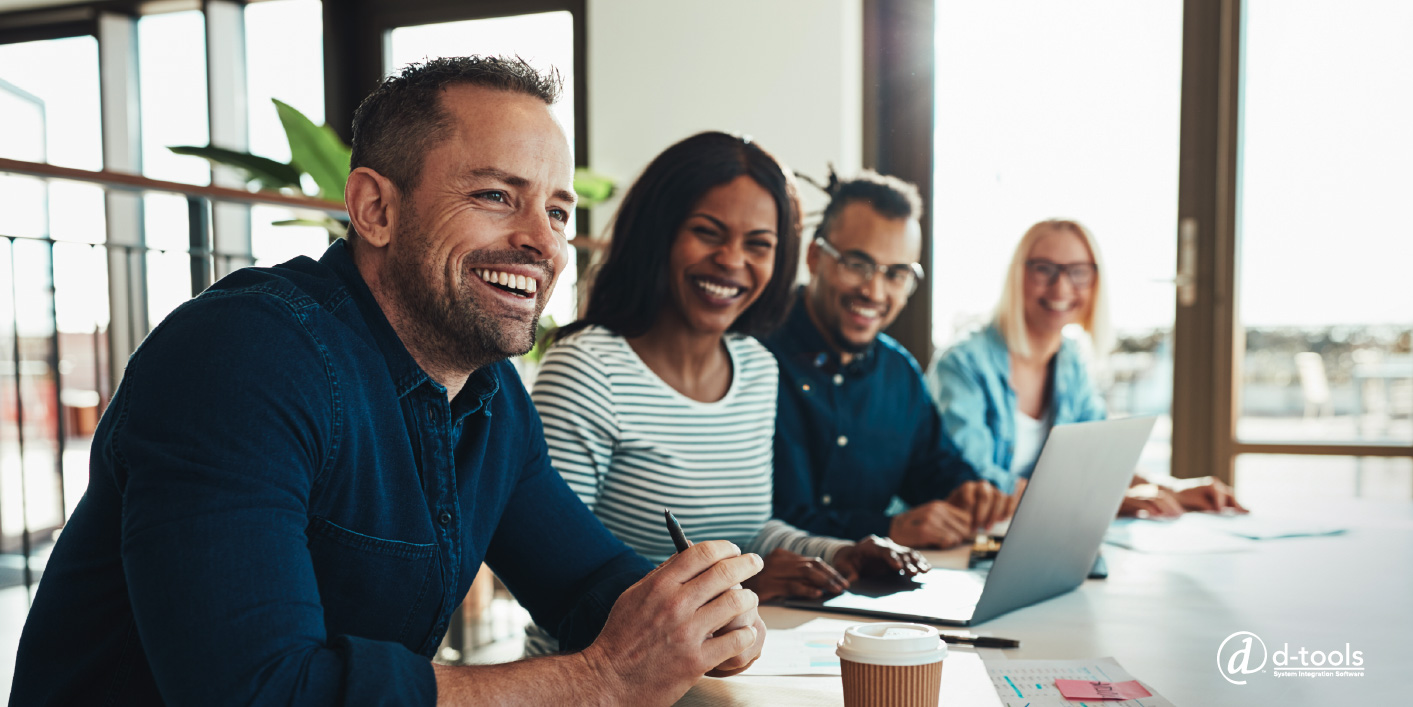 As an audio visual, building automation, or security system integrator, your software needs are complex. From proposal generation, product procurement, and designing systems, to project and field service management, you need a purpose-built software solution designed to streamline system integration workflows and scale with your business.
Needless to say, selecting the right platform isn't always cut-and-dried. This article offers five steps or best practices to follow to help you purchase system integration software with confidence.
Step #1. Look for Parity Between Problems and Solutions
Identify the problems you're trying to solve by using the new software product.
Not all software is created equal. Think about what you need the platform to do. Can it support and add efficiency to your existing processes? Does it allow you to collaborate with field workers in real-time? Do you need to develop quotes on-the-spot and send them directly to prospects?
Evaluate how well the features of any potential software product solve those problems. In other words, determine to what degree the software aligns with the unique needs of your business.
Bear in mind: there is no one-size-fits-all checklist of business software requirements. However, common questions to ask during the software needs assessment phase include:
What problems are we currently experiencing?
How are we solving those problems today?
How would a better way of solving these problems help?
What would a software capable of providing alternative solutions to these problems do?

Step #2. Assess the Usability
One of the main reasons why people choose one particular software product over another is ease of use. The interface should be intuitive enough for your entire team to understand how to use it, regardless of role.
Before signing on the dotted line of any software-purchasing agreement, request a demo or free trial and put the platform's usability to the test. Encourage multiple team members to test drive the software for themselves and provide candid feedback.
To help guide that feedback and make it more constructive for the decision-making process, employ a usability testing framework intended to deliver the type of information you need, e.g., exploratory, assessment, or comparative.

Step #3. Evaluate the Support
Software providers offer varying levels of support. Some are more DIY/self-service, and others offer access to specialists who can answer questions and troubleshoot as needed from right within the platform. Identify your preferred level of support, and use that preference to guide your purchasing decision.
At the same time, look for a provider with a track record as solid as the software and support you receive. Technology evolves at a rapid pace. As a result, software providers come and go. Be sure any software you choose for your business is supported by a company with a long and strong history. Take a moment to look at the provider's industry presence as well as any testimonials, white papers, and case studies included on their website.
But don't stop there: try to find other people, whether industry experts or peers, who have also used the software or software provider and gather up their thoughts and experiences. Websites like Capterra.com and G2.com are great resources for software reviews, and industry publications like CE Pro and Commercial Integrator can shed light on specific use cases.

Step #4. Consider the Interoperability
Another important consideration is how the new software integrates with other systems. For example: do you need a platform that integrates with your CRM, accounting, or inventory management software? What about down the road?
Determine what integrations are critical for optimizing your workflow today and for allowing your company to scale, and then choose a software product accordingly. Thinking ahead to the future when making a software-buying decision helps ensure you select a product that can be used long term.
Decision trees are tried and tested tools for assessing the impact of present decisions on future events. As management consultant, educator, and author Peter F. Drucker wrote, "Long-range planning...does not deal with future decisions. It deals with the futurity of present decisions."
Step #5. Know the True Cost
Cost is a key factor to consider when shopping for a new software. Does the software provider offer flexible payment plans? How many licenses are included in a plan? Suppose you need more capacity to handle an increased workload or new team members. How much will it cost to add more licenses in the future?
Think about the whole picture and not just the costs associated with the software purchase. Remember: you need to spend time and money to adapt and start using the program to benefit the company. Ask for details about the implementation timeline. Is there an option to have the software provider assist with the data transfer? Will you need to plan for downtime? How much training is required and what's the standard learning curve?
Evaluating ROI
At the same time, evaluate the potential return on investment (ROI) from the software. For businesses, ROI ranks among the top indicators of success, as it compares the initial cost of investment against the subsequent reward or return.
It's no different than two kids trading candy on Halloween. When one offers to give up his full-sized Snickers bar, he expects to get a lot of loot in return. Understandably so.

ROI is typically expressed as a percentage. To calculate ROI, simply follow these two steps:
Divide the net return on the investment by the initial cost of investment
Then, multiply that number by 100%
For example, let's say you invested $10,000 in a product that generated a net return of $50,000 — whether by reducing financial waste, by creating new profits, or by blending the two.

The resulting $40,000 gain would mean your ROI was 400%. Not bad.

To reiterate, the basic formula used for calculating ROI is:
ROI = (Gain of Investment) - (Cost of Investment) / (Cost of Investment)
Despite the simplicity of the formula, calculating ROI can be challenging. How do you quantify the time saved on project management or the time lost during the software implementation period? At the same time, how do you determine the amount of time other team members spend on their tasks?
The bottom line is that you need to demonstrate how green the proverbial grass is on the other side of the new software fence. This software ROI calculator can help.
The Bottom Line: Start Realizing the Benefits of Purpose-Built Software
Choosing the right software for your business can positively impact your bottom line by streamlining communications, automating repetitive and cumbersome administrative tasks, improving efficiencies in the field, and more. However, the best solution for you ultimately depends on the needs of your company and industry.
D-Tools offers purpose-built software solutions, including D-Tools Cloud and System Integrator, designed especially for system integration businesses.
>> Click here to find out which D-Tools software product is best for you.