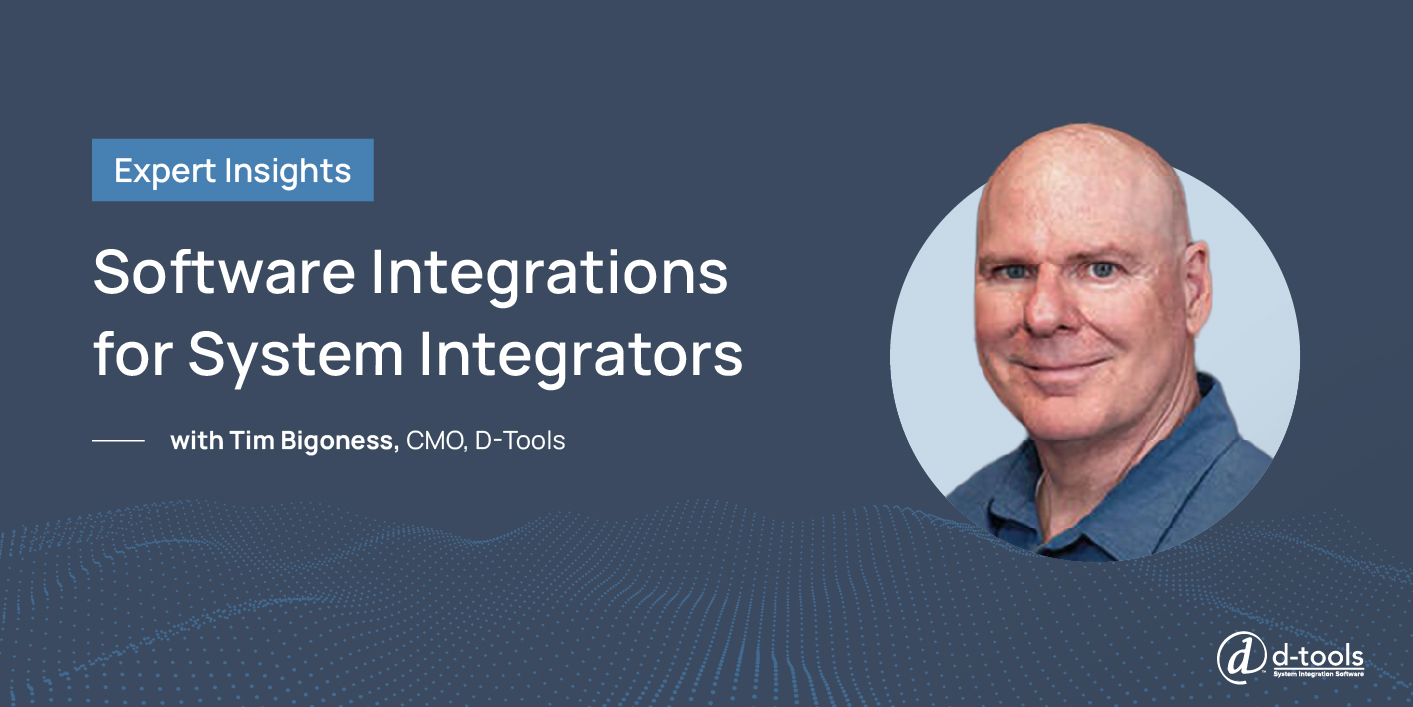 In the world of software-as-a-service (SaaS) companies, D-Tools is different. And proudly so.
While other software platforms position themselves as one-size-fits-all solutions, D-Tools takes a more measured approach.
According to Tim Bigoness, Chief Marketing Officer at D-Tools, "We're always seeking to answer one question: 'what problem does this company need to solve?' In the world of interoperability and integration, we want to be the guide that helps clients overcome obstacles and challenges to their success."
As CMO of D-Tools, Tim brings decades of experience across multiple industries, including television, publishing, multimedia and internet. He has been an influential part of the D-Tools team since 2005, and has proudly watched the company evolve into a leading voice in the system integration space.
>> Meet Tim Bigoness, CMO at D-Tools.
In this sit-down interview, Tim discusses the D-Tools approach, explaining why customization is paramount and how the array of integrations available with and through D-Tools software support this philosophy.
Thanks for taking the time, Tim
My pleasure!
Let's start with the macro. What's your approach to working with system integration companies?
Companies can be really complex organisms. That might sound obvious, but we think it's important to acknowledge that every company has its own unique fingerprint and DNA.
We spend a lot of time working with these companies to better understand their challenges and provide some perspective based on our years serving this market.
Frankly, there are many things that each company does well, and we don't want to mess with those. We can always improve, but we don't want to disrupt a successful workflow or process.

To that end, there are many systems these companies have already invested in, some of which work great and some others that may not be a perfect fit.
We always say at the outset, "We're not here to blow up your infrastructure. We're here to enhance it."
And while an end-to-end solution may be ideal — and frankly the easiest to advertise for many companies — we find that it's actually more elusive than most people want to admit.
So again, our job isn't to take a wrecking ball to a company's infrastructure. Instead, it's to figure out which areas of their workflow need to be addressed.
And from there, we can plug in specific areas of our solution without disrupting the areas that are already working quite nicely.
Typically, the areas of proposal generation, system design, documentation, and project management are where our tools can make the most significant impact.
Interesting. So you're essentially providing a suite of best-in-class features that can integrate within a given company's existing tech stack?
Right.
And listen, if a company can truly benefit from our full feature set, we're happy to provide it. As we have for thousands of companies worldwide.
But we also understand that many companies may only need a specific portion of our feature set.
For example, there are plenty of great CRM solutions on the market, and many of them include quoting and proposals.
But depending on your industry and the level of specificity you need, deriving a quoting solution from your CRM may not be the best solution for your business.
It's like that old commercial where the guy slaps tape on a water leak. It might hold for a while, but it's not a long-term strategy, and it's certainly not optimized to maximize revenue opportunities.
Speaking of CRM, do you integrate with companies like Salesforce and NetSuite?
Yes, we work with both.
For example, let's say an opportunity starts in NetSuite — from where all the clients and contacts originate.
When it comes time to do the quote, D-Tools software can integrate and provide a detailed proposal, complete with all required project documentation — including engineered drawing — and send that information back into NetSuite as an accepted project, with all product, pricing, and labor associated.

Because we work directly with product manufacturers, suppliers, and distributors, we can provide our customers with the most detailed product information needed to engineer a system. This includes specifications, dimensions, power requirements, amps, vaults, BTUs, inputs, outputs, etc., at the critical design phase of the job, greatly reducing hours of product research time and ensuring that they have the most up-to-date information available.
Wow. Sounds like the information you provide is pretty critical.
Accuracy and detail are critical for a successful project. A system integrator needs to get it right the first time — every time. And D-Tools software is purpose-built to provide the level of detail that's needed for systems integrators to repeatedly deliver successful projects for their client engagements. D-Tools Integrated Product Library helps ensure accuracy and detail where it counts — so a company can confidently specify, propose, sell, design, document, and then ultimately install that system.
At the same time, while D-Tools software provides essential solutions, we believe it's important to let companies manage the rest of the workflow through other systems, if they so choose.
We believe the customer is the arbiter of their best process. This philosophy is at the heart of our company culture, and we'll never foist a singular style of working onto any of our clients.
So customization is a top priority?
Every company has its own way of working, so we make an effort to facilitate that. By nature, the word "custom" means bespoke, built to order, or purpose built. So the feature set for our software is intentionally broad and deep, enabling our customers to work in the manner that fits their particular workflow and company culture.
As for our software, D-Tools Cloud and System Integrator (SI) are purpose-built for low-voltage system integration projects, so we play a critical role in the design, specification, documentation, installation, and servicing of those projects.
And you can't really do any of that with a singular workflow or process.
>> Find out which D-Tools software product is right for you.
You mentioned the Integrated Product Library earlier. Can you give us some more insight into how that works?
We're really the only SaaS solution for system integration that works directly with the suppliers, manufacturers, and distributors to integrate highly detailed product information complete with dealer-specific pricing for hundreds of brands.
So, when you zoom out a bit, you can see that managing a catalog of products is a very manual process, right? It's hard to escape that reality, but it is what it is. New products get added. Old products get phased out. Certain products end up on back order. And the prices are always changing.
Obviously, most systems can handle a price-list import, but given the nature of business, you have to consistently update that information.
So again, no matter how you slice it, managing a product catalog is essentially a manual process.
At D-Tools, we learned early on that the initial setup of any solution is always the hardest part. And for companies who are basically design build or resellers, managing the products that they sell and install is an arduous task. So we endeavored to streamline the process so our customers could get a head start and get to work faster.
To that end, we established and nurtured relationships with hundreds of major manufacturers and suppliers in the AV, security, building automation, and HVAC control system integration markets.
Now, in our Integrated Product Library, there's literally thousands of manufacturers and suppliers providing detailed product information and dealer-specific pricing around the clock.
The information they deliver is essential to accurately quoting, designing, selling, installing, and servicing integrated systems.
Our customers love our software, but they're particularly enthusiastic about the Integrated Product Library. It reduces the manual process by roughly 80 - 90%, all while connecting dealers directly with their suppliers.

Many integrators deal directly with the brand or purchase through distribution channels. With D-Tools, they can enter their account numbers and credentials, and if the brand is a partner with us, they'll see the product specifications — manufacturer, model number, description, image, dimensions, etc.
They'll also see their specific dealer pricing — not a generic cost — but their specific cost. This not only ensures that pricing is accurate, but it also saves a ton of time. Plus, it establishes a basis for the dealers to set their own customer-facing pricing within our software, complete with estimated installation times that can be used to apply associated labor per product, creating a very accurate quote for the customer.
>> Schedule a guided tour now to see firsthand how D-Tools software works.
Can you give an example of how that works in practice?
Take a speaker installation, for example.
Let's say five speakers take 30 minutes each to install from start to finish.
D-Tools software charts that data (and if need be, you can adjust those estimated installation times at both the catalog and project levels).
However, let's say that as an installer, you arrive at the job site only to realize the ceilings are unusually high. You might need to get a bigger ladder, move some stuff around, and maybe even cancel your dinner plans.
At that point, you estimate each speaker will now take about 45 minutes to install, and with D-Tools software, you can quickly make that change for all speakers within the project.
This is a really important feature, because it also applies the labor rates to those new installation times.
In other words, our software will automatically calculate the estimated installation time and price, based on both the price of the equipment and the labor.
The system integration company will then be able to estimate their potential profit from a job before they even present the proposal to the client, giving them confidence that they can deliver the job on-time and on-budget.
Can you compare estimates vs. actuals?
Absolutely. Business owners need to know what worked, what didn't, and why.
In addition to comparing estimates vs. actuals, we also provide job cost reporting, where businesses can gain an accurate understanding of, "Here's what we estimated – here's where we ended up. Here's where we fulfilled our promises – here's where we fell short."
These are essential ways to dial in operating efficiency, and everything starts from having an understanding of estimated labor times, setting the appropriate pricing and margins, and having an accurate and up-to-date catalog of products from which to work from.
>> Related Read - How to Ensure Accurate Job Costing
How specific do your integrations and partnerships get?
There are a number of examples of where we've directly integrated functionality from third-party solutions such as QuickBooks, Microsoft Visio, and AutoCAD, to our direct pricing and catalog integrations with suppliers such as ADI, Savant, and Amazon Business. For example, our library integrates Amazon-branded products like Ring, Echo, Eero, and many others, so system integrators can get detailed product information on those Amazon-branded devices from within the D-Tools Product Library, then add them to their client proposals.
Plus, Amazon Business provides ordering and fulfillment benefits, so integrators can actually order Amazon products directly from our D-Tools Cloud solution once they've closed a sale.
The purchase order goes directly to Amazon Business for fulfillment and tracking, and they'll even receive the Amazon Business preferred rate.
So in this case, we're integrated in both the product catalog and procurement. The same goes for ADI, where we have a real-time pricing integration, which helps our dealers know they are working with the most accurate product pricing available for their proposals - and then they can send purchase orders directly to ADI for fulfillment, saving significant time and improving productivity in both the sales and delivery processes.
Are there any other integrations that you're excited about?

Absolutely! For example, we have two integrations with Tracknicity and TRXio, both of which are great tools for helping companies better understand, track, and manage their inventories.
Again, it's all about gaining visibility into what products are available, what's on hand, and what may be on the field service van — all areas that used to be difficult for system integration businesses to manage.
Now, inventory management solutions like Tracknicity and TRXio are delivering valuable insights into what's happening inside stockrooms, warehouses and service vehicles while promoting better communication and smarter procurement practices.
When you pair D-Tools software with the tools system integration companies already use for everything from inventory management, accounting, and payment processing to engineering drawings, you're able to maximize efficiency, performance, and revenue across the entire organization.
>> Learn more about D-Tools third-party software integrations here.