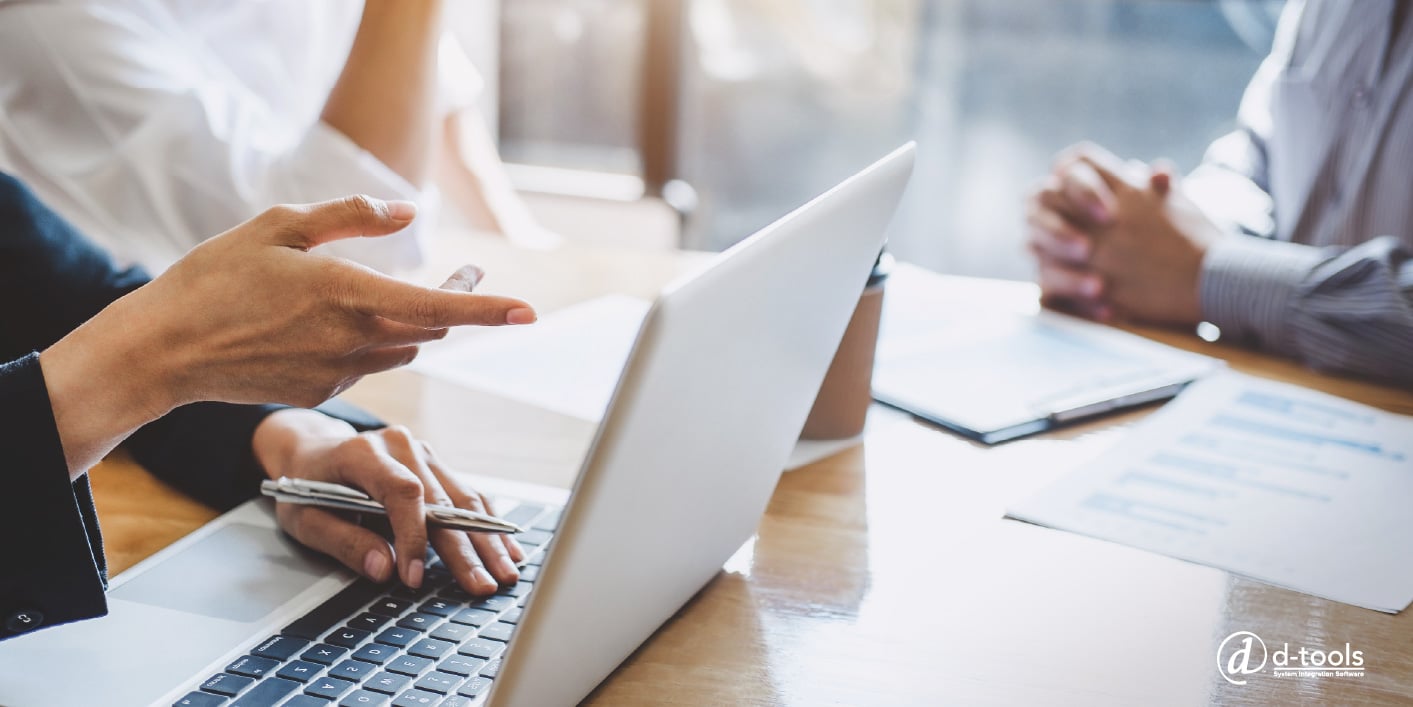 CRM software can improve your business performance, help you to increase your profits, and provide you with important metrics that can help you to better evaluate your business. But to get the best results out of your CRM software, it's important to choose the platform that's best for your business.
You'll have plenty of CRM solutions to choose from, which means you'll need to do your due diligence in researching and evaluating your options. Adopting a CRM often means that you'll need to train all of your staff on the new system, so it's important to initially choose the best CRM. Understanding how to evaluate CRM software can help.
Features to Look for in a CRM
Before you start evaluating your top CRM picks, you'll need to narrow down your choices. One of the best ways to do this is to make a list of the top features that you want a CRM to have. From there, you can eliminate some CRMs that aren't suitable and identify the ones that are.

The features you need in a CRM will partially depend on your business structure and any problems you want the CRM to help solve. The following features are often valuable for field service businesses.
Scheduling Functionality
The best CRM for a field service business will make your scheduling easier and more accurate. Managing a schedule is one of the top challenges you'll face in a service business, but a great CRM can help to solve some of the scheduling issues you face.
Look for a CRM that allows your entire team, including your field technicians, to access a live schedule. Consider how easily and quickly your team can schedule appointments when on the phone with a customer.

Other features, like smart route planning, can help you more strategically schedule appointments to reduce technician time spent driving. This can help to keep the schedule accurate and maximize your technicians' daily billable hours.
Sales Tools
When converting new leads into customers or selling service upgrades to existing customers, your CRM can make your sales efforts more effective and accurate. A quality CRM can track everything from follow-ups to where customers are in your sales pipeline for effective lead management.
Consider the tools that would be most helpful to your sales department. Automated outreach to prospects, detailed information capture capabilities, and auto-populated forms and contracts can all save your team valuable time.
Automation
A CRM's automation features can add significant value to your business. Automating repetitive tasks, like appointment reminder emails and calls, can save your staff time, leaving them free to focus on more important tasks that require their attention.

Depending on the CRM, you might be able to automate tasks like calendar alerts, call logging, invoicing, appointment confirmations and reminders, and more. These automations can streamline workflows for faster response times and increased productivity.
Inventory Management
It's also essential that your CRM either offers or integrates with your inventory management system. Effective inventory management is a major challenge for service businesses, but it can also impact customer satisfaction and repair times.
Look for a CRM that allows for accurate, digitized inventory management. Giving your field service technicians access to your inventory can help ensure they have the equipment and supplies they need. You can also avoid situations where you run out of in-demand parts, making for better overall service for your customers.
Quality of Analytics
When a CRM tracks all of your data, from your scheduling to your sales leads and more, it can provide comprehensive and detailed analytics. You can then use those analytics to identify areas to improve your operations and better monitor your business' success.

The analytics that a CRM can track can vary. If you're looking for specific analytics, be sure to confirm that a CRM offers them. Some CRMs offer many different reporting options, too. Look into whether you can customize your analytics reports, which can be valuable when monitoring a project or presenting information and updates to stakeholders.
System Mobility
When many of your employees are in the field, they need to be able to access your CRM, too. While many platforms now offer apps for remote access, it's important to consider how practical that access is. Some apps have limited functionality or are cumbersome to use. The best CRM for you will offer remote accessibility that's easy to use, efficient, and full of the features that your field technicians need.
Overall Ease of Use
While the above features are all important, the CRM's ease of use is also essential. If learning or using a CRM is difficult or time-consuming, your staff will be less likely to use its full capabilities. The system's ease of use will also make it easier to get new staff onboarded faster.
CRM Evaluation Criteria
As you narrow down the CRM options, make a list of your top CRMs to evaluate. Outline the criteria that you'll use, and then assign each CRM a point or percentage value for each criteria. Adding up those points or percentages at the end can help you to identify the top-ranking CRMs that may be best for your business.
The evaluation criteria that you'll use will partially depend on your business needs and your goals for your CRM. You might decide to weigh certain criteria more heavily than others and then use a scoring system to determine which CRM best satisfies your business needs.

It's also important to consider specific criteria that a CRM absolutely must have if it's to be a valid option for your business. In this case, start your evaluation with these required criteria. This can help you to narrow down your CRM options.
You may want to include the following CRM evaluation criteria in your assessments.
Implementation Timeline
Ask for details about how long implementing each CRM takes. Is there an option to have the vendor assist with the data transfer? Will you need to plan for downtime?
If you have a target implementation date, see if it's possible to make the transfer to your new CRM by that date. This can help you determine if you might need to adjust your goals or if a vendor can help keep your desired timeline on track.
Data Security
It's always important to consider the data security that your CRM offers. Multi-level security precautions, two-factor authentication, and up-to-date security procedures can help prevent data breaches that can be costly and damaging to your reputation.
Integration with Your Other Systems
While a CRM will usually become your central system for your business, if you're using other platforms, like a system design or field service management software platform, it's important that the CRM integrates with them. Check to see what integrations are available for any CRM you're considering. These integrations allow for streamlined workflows and help to keep your staff on task throughout the day.
Scalability
You'll want to choose a CRM that's right for your business as it is currently, but the platform will also need to be able to grow with your business. Look for a CRM that can scale when it comes to the number of users, the amount of data stored, and the complexity of your reporting and scheduling features. Knowing your CRM can grow with your business means you won't have to worry about transitioning to and learning to use another platform as your business grows.
Support Availability
Technical support is also an essential requirement of any CRM. When your entire business works out of the CRM, any downtime can be critical.
Ask for details about technical support available for any CRM you're considering. Get specific information about when technical support is available, including any help offered on weekends or after normal business hours.
Be sure to also ask about how you can access technical support. Online support tickets and email-only support can be time-consuming and frustrating. Make sure that you'll have the option to speak with a support technician by phone, especially when addressing an urgent support matter.
When considering a cloud-based CRM, it's also helpful to ask about the system's average uptime over the past year. Knowing that a CRM is functional nearly all the time means the system is likely to be available when your staff needs it.
Price
Try not to simply judge a CRM based on its price alone, and don't eliminate CRM options because of a higher cost. Some of the best CRMs are more expensive, but they also offer far more benefits in return for that investment.
It's always important to find a CRM that's within your budget, but remember that increased lead conversions, staff time saved through automation, and improved customer retention because of better service all have significant value, too.
How to Choose the CRM That's Right for You
Choosing the right CRM for your business can be a long process, and it might seem overwhelming initially. If you break the process down into steps, though, it becomes more manageable.

Remember that choosing a CRM will have a significant impact on your business. The right CRM with the tools and functionality that your business needs can help to streamline workflows, improve accuracy, convert leads, provide valuable data and metrics, and more. A CRM that isn't a good fit won't help you deal with some of the more common challenges you face in running your business, and you'll get less return on your investment with that platform.
Products like D-Tools Cloud and D-Tools System Integrator can help to support your business' sales process and daily operations. Designed for system integration and field service businesses, these solutions address challenges like metrics and reporting, customer communication, scheduling, client and product catalog management, and more. Learn how D-Tools' software can add efficiency to your processes. Request a demo today.