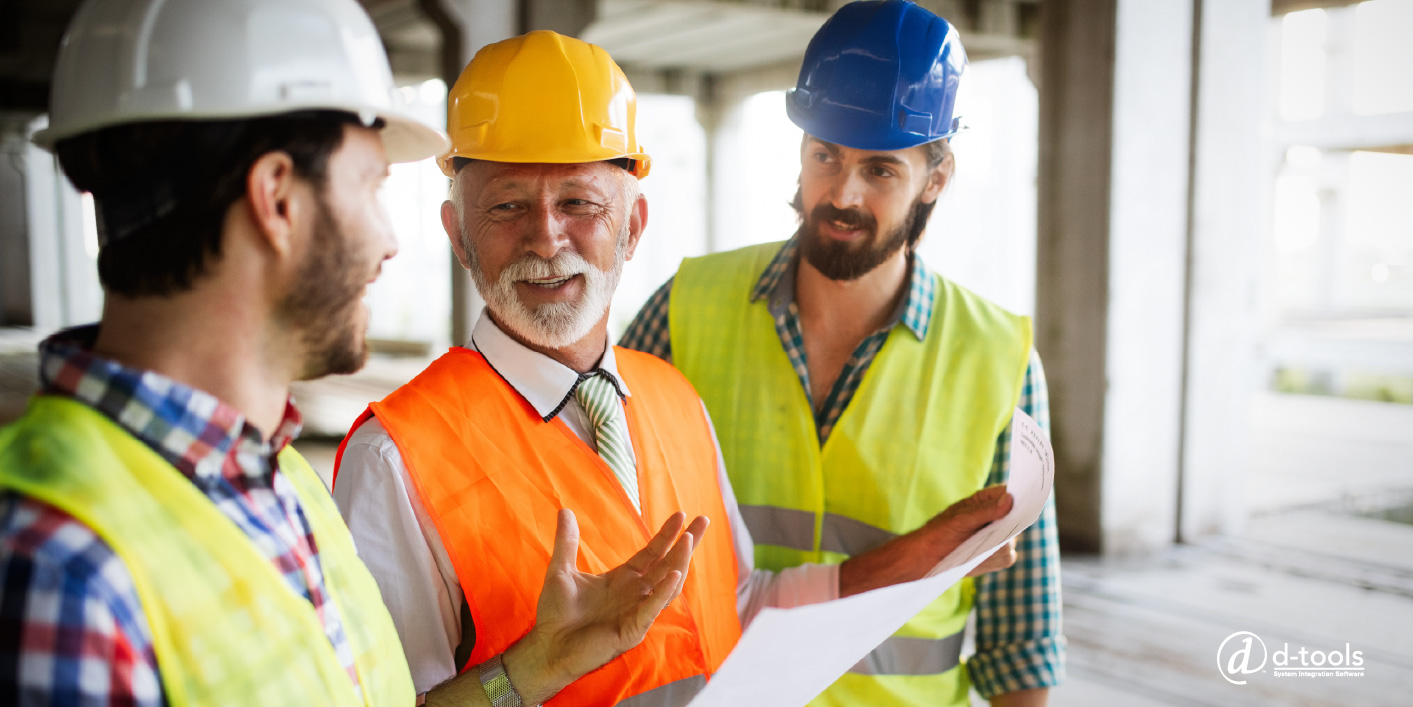 Customer satisfaction depends on field service management.
Every time your technicians enter the field, your company's reputation hangs in the balance.
Believe it or not, that's less hyperbolic than it sounds.
After all, we live in the age of Yelp and Google My Business, where one scathing review can define a company's future.

Field service management is both an art and a science. It requires a unique blend of technical prowess and managerial efficiency — the science — mixed with interpersonal relations and customer service — the art.
At its best, successful field service management develops new client relationships, defends long-standing loyalties, and ensures jobs get completed on-time and on-budget.
Field Service Management: Explained
What is field service management, exactly? It's a fair question.
Though there are many approaches to field service management, we'll define the ideal as follows: effective field service management seamlessly syncs operating processes to provide the highest level of customer service.
To put it another way, successful field service management empowers teams to consistently execute jobs and fulfill obligations regardless of their physical location.
Key Responsibilities of Field Service Management
Field service management can include a spectrum of responsibilities. Generally speaking, it entails the following core elements:
Scheduling and Dispatching
Project Installation
Service Contract Management
Customer Portal Maintenance
Inventory Management
Product Delivery
Traditionally, these tasks were performed with manual systems (i.e., with spreadsheets and whiteboards).
Thanks to the advent of digital technology, however, these responsibilities have since been consolidated into modern software tools.
Such features streamline field service management tasks, and provide end-to-end operating efficiency from the originating sales process all the way through installation and service.
>> Related Read - 8 Reasons to Use Field Service Management Technology
The Main Challenge of Field Service Management
While it takes great coordination for field service management to work, it only takes one setback to upset customers.
Though disruptions can be caused by things like inclement weather and traffic jams, most obstacles are induced by manual processes.
Studies show that manual processes cost small businesses $600 billion a year. On a local scale, the average small business loses nearly 5 percent of their time to manual administrative tasks alone.
These antiquated systems aren't only inefficient. They're dangerous.
In order for manual systems to work — not only for your team, but across your entire client base — there can be no room for human error. After all, one mistake can jeopardize the integrity of your contracts, your calendars, and your customer expectations.
There are many challenges in field service management. Even in the best of circumstances, it's difficult to successfully manage costs, communications, and customer satisfaction day after day.
Fortunately, all of these challenges can be effortlessly supported with the right field management software.
3 Field Service Management Best Practices
You know how to do your job.
You understand the importance of tracking the right key performance indicators (KPIs), of listening to your technicians, and of encouraging customer self-service whenever possible.
You know how to identify and document past problems, and more importantly, you know how to avoid repeating those pitfalls in future assignments.
These are the hallmarks of your craft. And while these practices are well established, they're quickly evolving.
After all, we live in a post-pandemic world. If the rules of engagement haven't entirely changed in the last few years, they've certainly shifted in major ways.
>> Related Read - The Secret to Neutralizing the Labor Shortage
To truly thrive, the modern framework of field service management must adapt to the times.
Here are three operational best practices to consider in 2022 and beyond:
1. Promote Real-Time Communication
If time is our most important commodity, we must do everything in our power to defend it.
While protecting time can grow a business's profitability, it can also enhance its customer relationships. Showing up on time, working efficiently, and getting the job done right the first time are all essential qualities in a reliable field service agent.
People notice and appreciate the effort. But that's nothing new, and we're living in unprecedented times. After all, this is the era of digitization, of metaverses, and of the Internet of Things (IoT).



This technology has provided powerful new ways to protect time.

In order to deliver the highest quality field service management, companies must capitalize on these advancements and promote real-time communication in and out of the field.
Field service software is the conduit for such real-time communication.
For example, field service software (like that of D-Tools with TRXio integration) allows technicians to access real-time inventory data, so they know they have the right parts before they hit the road. They don't need to drive to the warehouse and check the shelves or waste time calling the dispatcher.
They just need to spend a few seconds on their mobile device, where they'll get all the answers they need.
Field service management software directly increases first-time-fix rates and promotes end-to-end operational efficiency.
>> Related Read - 5 Field Service Software Hacks to Increase Productivity
Customers are equal beneficiaries of real-time communication.
For example, field service software enables clients receive automatic notifications, to view and comment on proposals, and to sign documents digitally.
When customers are included in real-time conversation, your team's bandwidth expands.
In other words, your field agents, your customer service staff, and your sales team will need to engage with clients at fewer touchpoints.
That's why manual systems look increasingly inefficient and costly. They require hand-holding through every step of the process and ultimately tax your time.
2. Get Serious About Scheduling
People are home now more than ever. In 2021, nearly half the U.S.population worked remotely.

And according to a recent McKinsey study, 31 percent of American consumers are actively investing in their homes. They're building home gyms, remote workspaces, and home theaters.
Home isn't just where the heart is. It's where millions of people live the vast majority of the time.
Though this may lead to a boost in business, it also places further pressure on the readiness of your team. If more customers require more service, your contractors and employees must stand ready to respond.
But times have changed. Prior to 2020, nobody thought twice about in-person appointments. It was a part of life.
Dispatchers would provide ballpark timing ("your technician will arrive between 12 and 6 PM"), and customers would welcome specialists into their homes without a second thought.
The pandemic changed all of that. Masks, vaccines, quarantines and contract tracing protocols entered into the public discourse and immediately complicated the most simple aspect of life: interpersonal relations.
While the worst of the pandemic may be behind us, the residue of its effects lingers on. Customers now expect to know exactly when technicians will arrive and how long the job will take to complete.
While some customers may be more relaxed about health safety measures, others may be more rigid. Modern service management must take all of these variables into account and schedule appointments as precisely as possible.
While you can't control global affairs, you can manage your firm's calendar with maximum specificity.
Be sure to leverage advanced software to get the right people to the right place at the right time.
Your customers will truly appreciate it.
>> Related Read - Solve the Field Service Scheduling Conundrum (Finally!)
3. Increase Customer Involvement
More and more consumers are favoring touchless payment methods.
In fact, at the height of the pandemic, nearly 90 percent of customers sought out stores with touchless payment options.
In general, this belies a subtle truth: people love control. When it comes to field service management, you're not just managing the job at hand. You're ultimately managing your customers' experience and their sense of control.
To enhance their experience, don't be afraid to give them a bit of autonomy.
All you have to do is provide access to a self-service portal where they can create service requests, view the status of work orders, track appointments, and complete documentation.
With the D-Tools Customer Portal, for example, your clients will be able to communicate with your team, view proposals, and provide eSignatures from the comfort of their home.
In other words, your clients will be able to safely engage and communicate with your company in real time. That's how loyal customers are born.
Move Forward Equipped with Field Service Management Best Practices
With D-Tools software, you can have total confidence that you'll get the job done on-time and on-budget. The D-Tools Cloud and System Integrator software products empower you to:
Enjoy a simplified and collaborative way to organize and manage projects
Get the right people to the right place, at the right time with project scheduling
Improve accountability and stay informed with time, project, and item tracking
Mobile view for field technicians keeps teams informed, on-time, and on-track
Measure performance and control project costs
Best of all, you can enjoy all of these features from any web-enabled device.
Ready to learn more? Find out which D-Tools product is best for you.