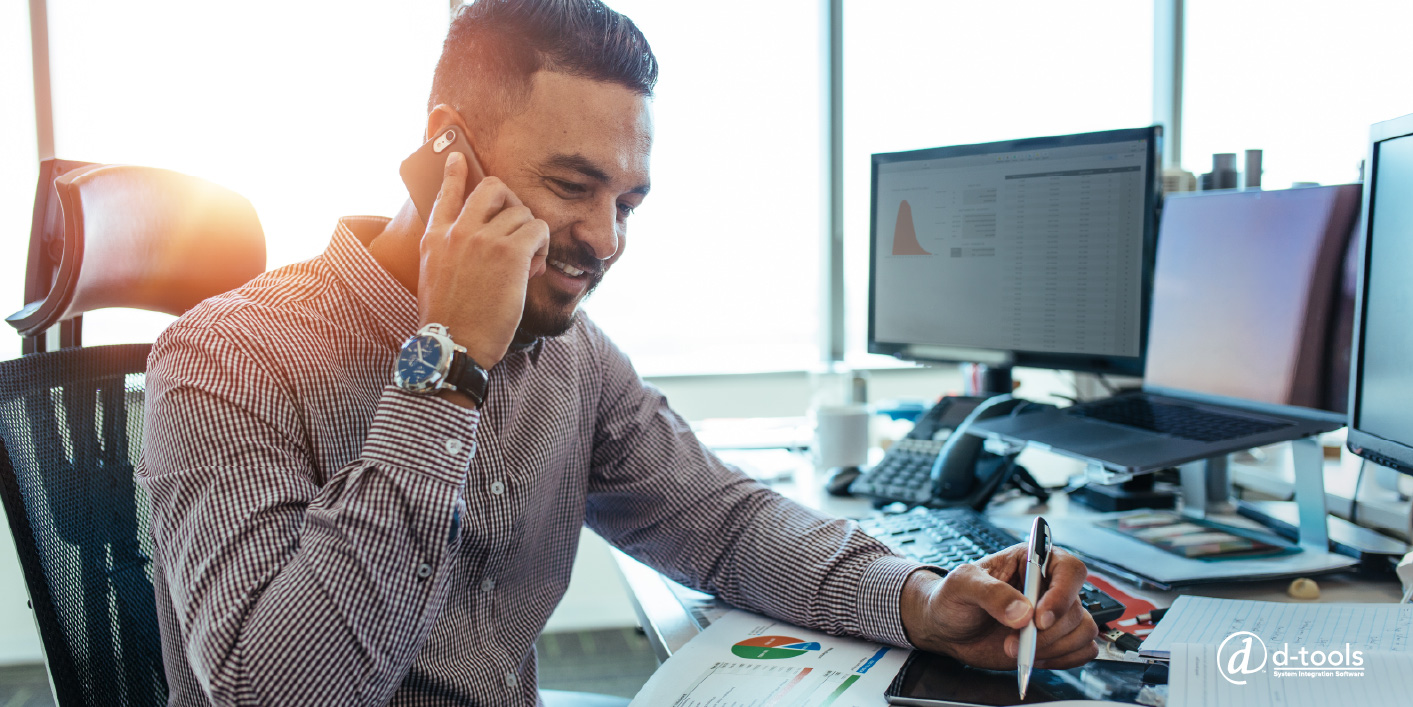 Scheduling service calls isn't merely about productivity. It's about profitability.
After all, the more you can streamline the scheduling process — and the more calls your staff can take — the better your bottom line will be.
If only it were so easy. While scheduling service calls might sound simple on paper, it's almost always more complicated in practice.
As you know, things like weather, bad traffic, and emergencies can upend the most carefully constructed service calendar. And lest we forget, the most unavoidable variable of all — human error — always looms over our best expectations.
So, how can you optimize your service call scheduling?

Here's the short answer: invest in state-of-the-art field service management software. It's the most singularly powerful way to unite your team, streamline workflows, and build efficiency.
As for the long answer? Check out these five tips.
1. Take Inventory of Your Team
Though scheduling service calls isn't as demanding as an air traffic controller, it's still highly complex.
And though your feet may be firmly planted on the ground, you still need a 30,000-foot aerial view to take in the full picture of your staff.
Like the head coach of a sports team, you need to know who's standing on the sidelines with you and ready to play.
To that end, you need to constantly evaluate (and reevaluate) capacity and have a crystal clear picture of your available human capital.
More importantly, you also need to understand the individual skill sets of your players and know how to match them with the appropriate jobs.
Who are your veteran specialists?
Who are your newer members?
What jobs require the highest level of expertise?
Which jobs may be helpful learning experiences for your trainees?
With answers to these questions, you can schedule service calls with confidence.
>> Related Read: How to Manage Resources Across Multiple Projects
2. Build a Future-Focused Calendar
After you take inventory of your team, permit yourself to look a few weeks (or even a few months) in advance. We hear you: your calendar is not a crystal ball. Things change, life happens, and customers reschedule (sometimes too often).
While you can't control the future, you can manage your team's expectations. After all, you're in charge of setting up the board and scheduling all the chess pieces into place.
In other words, you're essentially in charge of time itself. That's not a small responsibility. Your senior service technicians are wise to this.
While your apprentices and trainees may be more adaptable, veteran technicians are more liable to assert themselves and take control of their schedules.
Generally speaking, this must be avoided. Though adaptability is important and listening to your team's needs promotes a healthy and happy work environment, you must stay in total command of the scheduling process.
If you cede control of the calendar, you can jeopardize the workflow of the whole company.

That's one reason field service management technology is essential in our fast-paced industry.
By operating as a central service portal, field service software lets you view all of your technicians' schedules in one convenient place. While empowering you to set and adjust schedules easily, intuitive technology also helps dispatch technicians and carefully monitor work orders from start to finish.
Where Excel spreadsheets and whiteboards take hours of painstaking work, the right software gives you infinitely more freedom and flexibility in just a few clicks.
Still, to avoid getting usurped by your employees — and blown off course by unexpected events — aim to build out your service calendars early and often.
By planning ahead with a tentative schedule, you not only help your dispatchers and technicians but also allow for plenty of time to adapt to inevitable scheduling curveballs.
If the future appears too uncertain — especially during this labor shortage — turn to past calendars for helpful patterns.
Do schedules appear reasonably consistent in certain seasons year over year? If so, you can have confidence in lightly repeating those patterns.
Pro Tip: When possible, favor mornings for your advance service appointments. By booking early appointments first, you protect your afternoons and evenings from emergency calls. For more field service scheduling tips like this, click here.
3. Maintain an On-Call Policy
Winston Churchill is often remembered for his aphorisms, including his outlook on the appropriate family size. The former prime minister believed having a fourth child was necessary "in case of an accident." While making this rather macabre observation, Churchill believed that since accidents are inevitable, contingency plans are vital.

When it comes to scheduling service calls, companies must have an on-call policy in place to protect their reputation, help customers, and maintain a productive schedule.
That doesn't mean you need a full-blown reserve army of specialists standing by at all hours. Instead, it simply means that you need a fair and rewarding policy that ensures a qualified technician can help in last-minute situations.
To establish your on-call policy, start by asking the following questions:
What's the absolute minimum number of on-call technicians we need?
What hours constitute "on-call"?
How will rotations work?
How will compensation differ from our standard rates?
Which employees are eligible and willing to be considered on-call?
What situations will necessitate deploying an on-call employee?
Ultimately, your on-call policy is an insurance policy against the unexpected. It's there in case of an accident.
4. Digitize Your Inventory Management
While scheduling is paramount, inventory management is equally vital.
After all, when your technicians show up for an installment, they need to know they have the right tools on hand.
If they don't have what they need, projects get delayed. And while technicians are busy driving back and forth from the warehouse, schedules get compromised.
When schedules get compromised, customers get frustrated. And when customers get frustrated, bad things happen.

To avoid this nightmarish chain reaction, use field service software that seamlessly integrates with an inventory management tool like TRXio. Manually managing inventory is risky, no matter how careful you are.
By using advanced software with inventory management integration, you can fully digitize your inventory and track which products are the most in-demand (as well as those that aren't).
You'll be able to strategically order the right parts in advance, so you'll never have to lose sleep over potential inventory issues.
Above all, the right field service software will ensure that your entire team is always on the same page and viewing the same information in real-time — whether at home or on-site.
>> Related Read: A 7-Step Work Order Process for Better Field Service Response Times
5. Develop a Priority System
There's tremendous power in setting priorities. After all, the busier your company gets, the more judicious you must become with your time, attention, and values. Let's be honest: you can't answer every phone call and say "yes" to every customer.
Liberate yourself from the pressure of perfection by developing a priority system, and start by listing the clients and jobs that should receive your team's best attention.
Maybe these items include your most loyal customers, or perhaps it features niche installations that your specialists have truly mastered.
Then, unlock your imagination and engage in the hypotheticals.
For example, let's say one technician is halfway through a task. While he's installing the products, an emergency pops up with a long-time customer who's only a few miles from the busy technician. Given the confluence of events (and to help dramatize this example), no other employee can get to the emergency in time.
What do you do?
Do you have the technician complete the project? Or do you instruct him to put the current project on hold and swiftly attend to the emergency?

While that's an extreme example, it's essential to have a philosophical framework for your priorities. It's also important that you share these priorities with your team, so they aren't caught off guard when executive decisions are made under duress.
The Bottom Line: Scheduling Service Calls Is Easier Said Than Done
As we've discussed, schedule optimization requires an understanding of previous performance patterns, the ability to plan ahead, and the flexibility to adapt to change. Scheduling service calls also demands that you know your team and realize your technicians' unique strengths and aptitudes.
It necessitates managing a flexible yet organized calendar while maintaining an on-call policy that can adapt to the unexpected.
It also calls for carefully managing your inventory and ensuring your technicians have the products they need when they need them.
D-Tools software and integration partners provide the seamless communication and organization your team needs to succeed for all these challenges and many more.
Most importantly, D-Tools Cloud and System Integrator help align every member of your staff through the same seamless technology, empowering them to be proactive at all times.
>> Click Here to Find Out Which D-Tools Software Product Is Right for You.